By Hilda Austria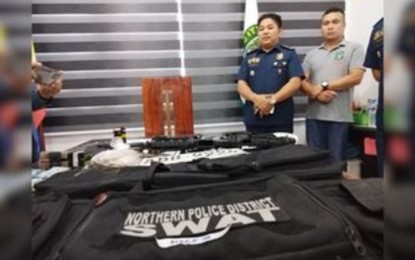 SAN CARLOS CITY, Pangasinan – A 29-year-old special weapons and tactics member assigned at the Northern Police District- National Capital Region (NPD-NCRPO) and his brother were arrested in a robbery incident here on Friday.
In a press conference, Pangasinan Police Provincial Office director Col. Jeff Fanged identified the suspect as Cpl. Jhomel Dassil Blas and his 27-year-old brother Jeric Dassil Blas, a security guard, both residents of Baggao, Cagayan.
"The suspects were arrested by the San Carlos Police Station personnel after a five-hour manhunt operation. They were eager to capture the suspects especially that one of them is a policeman," he said.
Recovered from the police officer, who was arrested in a nearby village, were two pieces of gas masks, two pieces of pepper spray, and assorted civilian clothes.
The younger brother was nabbed at the city public market.
Fanged said law enforcers also recovered from the getaway vehicle one Glock 17, the issued service firearm, as well as assorted ammunition.
There were also two units of long firearms that were declared missing by the NPD-NCRPO, he said.
Fanged said the suspects robbed a 64-year-old businesswoman, the mother of the policeman's girlfriend, while she was about to close her store selling agricultural produce in front of her residence in Barangay Talang, this city.
"They used a pepper spray on her while she was about to enter her house and took her money and ran off," he said.
The suspect's girlfriend is also a police officer assigned in Metro Manila.
Fanged said the suspects will be facing different charges, such as robbery and violation of Republic Act 10591 or the Comprehensive Firearms and Ammunition Regulation Act.
He said the police officer will also face administrative case for grave misconduct with the possibility of dismissal in service.
He vowed an airtight case to ensure justice will be served.
"We will not tolerate these criminal acts as part of the five focus agenda of our chief of the Philippine National Police for internal cleansing of the organization," he said.
Fanged also assured that the safety and security of the community in the province remain the top priority.
The suspects and the pieces of evidence are under the custody of the San Carlos Police. (PNA)