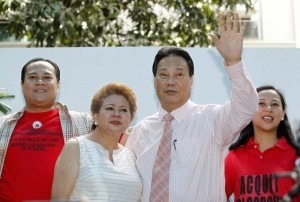 MANILA, May 31 (Mabuhay) – Former Chief Justice Renato Corona will not appeal the decision of the impeachment court finding him guilty of betrayal of public trust and culpable violation of the Constitution for his failure to disclose his Statement of Assets, Liabilities and Net worth as required under the Constitution.
Corona, who is still in The Medical City undergoing medical treatment, said on Thursday his impeachment was now a "closed chapter" in his life.
Senator-judges voted 20-3 last Tuesday convicting Corona on article 2 of the impeachment complaint.
His defense lawyers had mulled filing an appeal before the Supreme Court.
Constitutional law expert Fr. Joaquin Bernas said on Wednesday he doubts whether an appeal by Corona would succeed in the high court.
Senate President Juan Ponce Enrile had also warned the Supreme Court against defying the impeachment court's ruling, saying the Senate had the sole power to hear and judge impeachment cases.
Corona's rival in the SC, Associate Justice Antonio Carpio, took over as acting chief justice on Wednesday, a day after Corona's removal from the high court.
Palace, House welcome Corona's decision
Meantime, Malacañang and the members of the lower House welcomed Corona's decision not to appeal the Senate impeachment court's ruling.
"That is properly the period that ends the chapter of the Corona impeachment," deputy Presidential spokesperson Abigail Valte said.
House Majority Leader Boyet Gonzales said Corona realized that he no longer holds sway over his former colleagues in the high tribunal.
"The fact that the SC, through a special en banc met yesterday and issued orders that practically demonstrated that he had already lost control of the SC and could no longer rely on his perceived allies, I'm sure, contributed to his decision. Nevertheless, salamat na rin at wala ng duda na final na conviction niya," Gonzales said.
Members of the House prosecution team who took part in Corona's impeachment trial said they are thankful for the former chief justice's decision not to appeal his case.
"It would've engendered some uncertainty for what is and should be a certain and unappealable result. There is much work to be done and for many months, the country was glued to the drama of the trial. Now I would say the next challenge is to actually focus on the economy. Fighting corruption only gets you so far by providing a good foundation for growth, but we still have to build the proverbial structure: jobs, infrastructure, opportunities. The trial was just prologue, this should be the real business of the government," Rep. Sonny Angara said.
"As far as the responsibility of the House under the Constitution is concerned, our role is finished," Rep. Miro Quimbo said.
"We welcome the decision of former CJ Corona not to pursue an appeal to the SC. Former CJ Corona showed that he has accepted the decision and ready to move on. We may be in different camps on the issue of his impeachment but at least this act of former CJ Corona would show that he had the country's interest inhis mind," Rep. Erin Tañada said. (MNS)