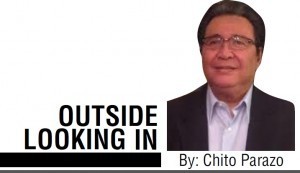 The Philippine National Police (PNP) has recently been in the "cutting edge" of controversy following the involvement of its personnel, including its head, General Alan Purisima, in illegal activities ranging from kidnappings, gun-for-hire, hold-ups and bribery.
General Purisima, reportedly a close friend of President Noynoy, is facing graft, plunder and indirect bribery charges filed this week by the Coalition of Filipino Consumers (CFC) at the Office of the Ombudsman.
It was reported by the CFC that Purisima grossly undervalued his 2013 SALN in regard to his Nueva Ecija "mansion" property that he and his wife own. The PNP chief listed the value of the property at P3.7 million. However, CFC claimed that the property is easily worth from P30 to P40 million.
On top of this, Purisima is also facing graft charges in connection with the alleged anomalous P100 million contract with a courier service for the delivery of firearms licenses.
CFC also said that General Purisima committed  an act of indirect bribery when he admitted that the money he used for the renovation of his official residence in Camp Crame  came from his friends, patrons and brother masons.
Corruption in the Philippines is so pervasive that almost, if not all top government officials are all "on the take." Whether it is in Congress, Judiciary or in the police force, the name of the game is  corruption and more corruption. It seems that each of these government offices are trying to upstage each other when it comes to corruption.
Even President Noynoy and Budget Secretary Butch Abad, we're suspected to have masterminded the bribery of some members of Congress, to ensure the conviction of impeached  Chief Justice Renato Corona. Abad is currently under scrutiny in the lower house by opposition lawmakers regarding his brainchild, the anomalous DAP funds.
On the other hand, Vice President Jojo Binay and his wife and former Makati mayor Elenita Binay, his daughter, Senator Nancy Binay and his Makati mayor son Jun Jun, we're recently charged with plunder. The vice president and his Makati mayor son were accused of accepting "greese money" in the controversial and overpriced Makati carpark building. His wife and Senator daughter were also implicated.
Last week, Sandiganbayan Justice Gregory Ong was ordered dismissed by the Supreme Court  for gross misconduct and violations of the Judicial Code of Conduct.  Ong was accused of dishonesty and impropriety under the new Code of Judicial Conduct for the Philippine Judiciary, after he was linked with Janet Lim Napoles.
Napoles if the principal suspect in the multi billion peso pork barrel scandal involving illegal diversions of public funds of legislators. It was reported that Ong is the contact person of Napoles in the anti-graft court.
Two weeks ago, eighth policemen from the La Loma police station in Quezon City staged a daylight robbery kidnapping in the busy Edsa avenue in Makati. The gun-toting police officers were led by Chief Inspector Joseph De Vera, deputy station commander at the La Loma police station. De Vera has been in the service for 13 years and has received 30 medals, awards and commendations for for services rendered in the service.
Fortunately, the victims, two businessmen who were carrying p2million to purchase equiptment for their business in the south, where rescued unharmed. However, the money was not mentioned to have been recovered as of this writing.
A bus driver, who witnessed the kidnapping incident, got the plate number of a vehicle which was traced later to have been owned by De Vera.
He and his men are facing kidnapping and robbery charges. Dismissal proceedings from the police force has already been initiated, Camp Crame officials said.
A week before the Edsa Kidnaping, two policemen from the Malolos police force in Bulacan, we're arrested for attempting to kidnap and extort money from a Chinese businessman in the Monumento area in Caloocan city.
The alleged  victim, identified only as Lin, told probers that he was about to board an LRT train in the Monumento station at 4 p.m. when the two cops suddenly handcuffed him and took him to a car driven by a third suspect. He was then brought to the Malolos police station where they demanded  P8million from him in exchange for his release. He said the cops even threatened to plant "shabu" on him if he rejects their demand.
Fortunately for him, he was able to escape from his police kidnapers by 11 pm when they left him handcuffed in the car to sleep. The two policemen are now in detention and facing criminal charges and have been dismissed from the service.
Another police officer from Pasay city have been fingered as the principal gunman in the killing of Philippine car racing champion Enzo Pastor. When arrested POI Edgar Angel pointed to his victim's wide, Daliah Guerero and herb businessman lover, as the brains behind the shooting.
It is so unfortunate that these things keep happening not only in Metro Manila but thought the country. It seems that the police force has lost its steam and it's dedication to protect citizens from criminal elements. All they care about is to make a "fast buck."
I don't blame these rogue cops if they have been corrupted. They see it everyday in the newspapers. The President and the Vice President do it.  Senators and Congressmen do it. Governors and mayors do it . Judges do it. Generals do it. Heck, why can't they not do it.
You be the judge. Who is to be blame that corruption remains unabated in the Philippines?