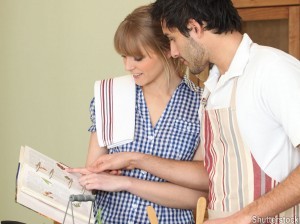 FIRST comes love, then comes marriage, then comes … cooking together? With 90 percent of bridal registries containing kitchen appliances, today's couples are thinking about the thousands of meals they'll share together. Many registries focus on appliances, as couples hope to complete cooking tasks quickly and easily, but they should also consider the most important ingredient: a partner to cook with.
One truism of marriage is that the more activities a couple shares, the stronger their marriage becomes. Cooking together is a great choice because it's something that you can easily incorporate into your life, whether it's your everyday routine, entertaining guests or, of course, date night. Couples who prepare meals together create a feel-good home environment that builds trust, problem-solving and teamwork.
The kitchen also is a place of memories. You may remember mom's chicken or grandma's homemade marinara sauce. Whether you create your own recipes, cook each other's favorite dishes or just discover meals you're both fond of, cooking together can contribute many happy moments every year to your marriage.
Your bridal registry choices set the initial stage for what types of delicious meals (and drinks) you share together. Just follow these helpful hints by Black & Decker so you and your spouse can plan to cook, love and eat your way through the many years to come.
Start the day easy.
What better way to start the day than to cook and eat a meal together with your spouse? Not only is breakfast the most important meal of the day, it's also a great opportunity to connect as you fix it together.
Make coffee like a barista with a Black & Decker coffeemaker, which lets you set the strength of your brew. You can also create cafe-style sandwiches in a toaster oven for each other, or experiment with different artisan breads to see which you like best. Try hearty rye, rich sourdough or tangy olive loaf to supplement your regular white or wheat.
Entertain your guests effortlessly.
While every marriage has a foundation of two people, you'll want to include friends and family in your home celebrations. Preparing food for guests can be intimidating the first few times you try it, but with some key appliances, you can cook great dishes with just a little skill. Black & Decker appliances provide the tools you need, with the durability you want and at a value you'll appreciate.
The PowerPro 2-in-1 Food Processor & Blender will help you quickly prepare ingredients for your dishes and then quickly switch to frozen drinks when the guests arrive. With one cost-saving appliance, you can make healthy smoothies and decadent milkshakes or chop up vegetables and cheese for a homemade pizza or healthy salad. A countertop convection oven can serve as a second oven when cooking for the entire family. Cooking with convection ensures that you will never wait long for your food to be ready, whether it's a baked dish or delicious roast chicken. Finally, cleanup is easy now that most appliances feature removable dishwasher-safe parts.
Don't forget date night.
Marriage requires investment to keep the relationship fun and interesting. While everyone enjoys a night out at a restaurant, a date at home can save money and increase your bond as you create new and interesting dishes together. With the right kitchen appliances, you can save a lot of time so you focus more on each other and less time on food prep.
Instead of going to a Mexican restaurant, make a Mexican-themed meal. Starting the night off with a frozen margarita is easier if it's made in a blender that shreds ice into snow. Use your food processor to whip up a spicy salsa, then quickly slice and shred ingredients for some tacos. For dessert, a countertop convection oven can bake indulgent individual caramel flan in a snap. With just a little help from your kitchen appliances, your date-night meals will come out memorable every time.
Learning to cook together doesn't have to be a daunting task. Whether its breakfast, entertaining lunches, or date-night dinners, your appliances will help guide you through the many meals to come. Visit  www.blackanddeckerappliances.com for more information on registry ideas for couple's cooking. (ARAContent) ■