By Benjamin Pulta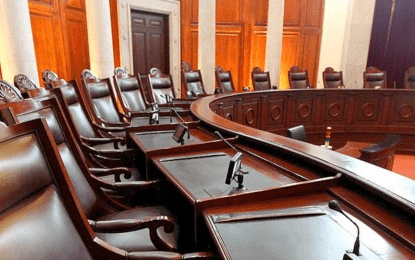 MANILA – The Supreme Court has ordered the forfeiture of the retirement and other benefits of a court worker and perpetually disqualified her from reemployment in government after her conviction in criminal cases for issuing bad checks.
The SC said former Makati Metropolitan Trial Court clerk Edith Haboc, having been already convicted of a crime of moral turpitude, would have been dismissed from service had she not been earlier dropped from the rolls.
"We reiterate that court employees, from the presiding judge to the lowliest clerk, being public servants in an office dispensing justice, should always act with a high degree of professionalism and responsibility. Their conduct must not only be characterized by propriety and decorum, but must also be in accordance with the law and court regulations," read the Aug. 14 decision shared online over the weekend.
After her conviction of three counts of violation of Batas Pambansa (BP) Blg. 22 or the Bouncing Checks law, Haboc applied for optional retirement in October 2017.
BP 22 imposes imprisonment of at least 30 days but not more than one year, or a fine of at least double the amount of the check but not to exceed PHP200,000.
Haboc did not appeal her conviction and instead applied for probation.
Probation is a privilege granted by the court to a person convicted of a criminal offense to remain in the community instead of actually going to jail.
Haboc was also previously dropped from the rolls for habitual tardiness and going absent without leave.
A litigant likewise filed a complaint after her payment for settlement in a case, coursed through Haboc, went missing.
Haboc countered the payment was actually for the litigant's loans, which the investigators agreed with but still deemed as interference with her official duties. (PNA)