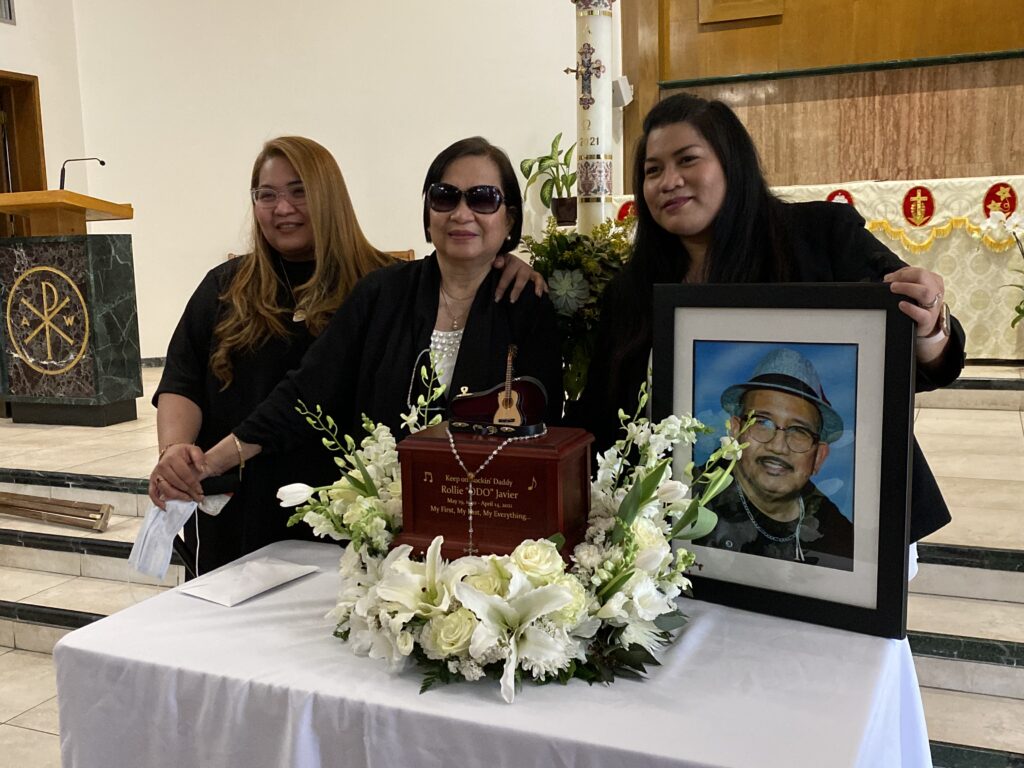 Rolando "Rollie" Javier had a short stint with the 1970's popular Filipino band "Hotdog" (the band that set loose the classic songs "Manila" and "Annie Batongbakal" into the airwaves). But his love affair with music was unbroken.
In Los Angeles, "gratis" or with "badyet," Rollie filled in spots for bands in their performances as the drummer, the bass guitar guy, the rhythm guitarist guy and played the keyboard at times too.
And of course, he had occasionally sang "Manila."
Rollie's music discipleship was amply rewarded by siring a musically talented daughter, Janice, who became famous in the Philippines for her remarkable stint in the singing competition "The Voice."
Now, the sad news is — at dawn on April 14, Rollie passed away while in an intensive care unit of a hospital in Long Beach — another victim of the dreaded COVID 19 virus.
Rollie was 71 and was a diabetic. He was treated for prostate cancer some years ago.
The tragedy
Rollie's death was the tragic peak of COVID 19's assault on the Javier family.
The deadly virus apparently crept into the Javier household through Rollie's son-in-law (who got it from a co-worker).
Christine (one of Rollie's two daughters), in a phone interview, said her husband Robert Pulos was confirmed positive with COVID 19 virus on March 19. The man immediately went into self quarantine.
But the virus had already got inside the Javier household. Its youngest member, seven-year-old Aeris, exhibited symptons.
Christine tested positive with the virus but was asymptomatic.
By March 27, Rollie had developed a whizzing sound on his breathing and was picked up by an ambulance crew on March 30.
A couple of days later, Rollie's wife, Virgie, was also confined in another hospital.
Christine recalled that her father's condition turned for the worse on April 11 when the doctors informed the family that they needed to put Rollie into a ventilator.
"Ingatan ninyo ang mommy ninyo," Rollie told Christine.
"Nagbibilin na siya," Christine narrated, "pinalakas ko pa rin ang loob niya. Sabi ko, mas giginhawa ang pakiramdam niya pag naka-ventilator na siya. And that many people have survived after being on ventilator."
"And I also told him, mabuti kang ama at asawa."
On April 13, the doctor asked Christine if she could come to the hospital. The daughter obliged and saw her father for the last time.
"I could only see him (Rollie) behind the glass. Payat na payat na siya," Christine recalled.
At dawn the next day, while sisters Christine and Janice were chatting, their father passed away.
Fortunately, Rollie's wife survived the disease and was discharged from the hospital on April 16.
But Virgie wouldn't know about Rollie's death six days later. She was told about her husband's death shortly after Janice arrived in Los Angeles from the Philippines.
Janice and Christine sat with their mother and broke the sad news.
On May 15, a memorial service was held for Rolando "RJ" Javier at the St. Barnabas Catholic church in Long Beach.
And as of presstime (Wednesday May 19), family members and friends celebrated the musician's birthday at the Kusina Filipina in Cerritos.
Rollie's band, the LA Front Page Band led by its lead vocalist Imelda Bosing, played for his guests.