Do those new sky-high fall boots have your feet pining away for your summer flats?
Our feet were threatening to walk when we sunk into the over-sized, shabby-chic living room chairs at Sweet Lily Natural Nail Spa in New York City for an autumn-liscious Cranberry Apple Peducure. And once we plunged our weary feet into a basin full of warm apple cider and apple slices, we never wanted to leave.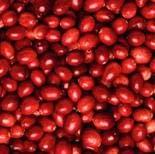 And we didn't, until owner Donna Perillo gave Stylelist the secrets to an at-home version of this perfect seasonal pedicure. We left Sweet Lily rejuvenated by our softened heels, precisely-filed nails and gleaming ruby-red polish. Here's how you can do it yourself.
What you need:
Wooden orange stick
Nail file
Polish
Top & Base coat
32 oz Fresh apple cider
Large bowl for soaking your feet
Cranberry Seed Exfoliant: (combine ingredients in a small bowl)
1/2 cup cranberry oil (you can substitute olive oil)
1/2 cup granulated sugar
1 tablespoon ground cranberry seeds (found in most health food stores)
How To:
1) Remove any old polish and file nails to desired shape. Perillo recommends keeping them a bit curved on the sides to avoid ingrowns.
2) Warm the fresh apple cider. Add to large soaking bowl along with 32 ounces of warm water.
3) Sit back, relax and soak feet for 5 to 10 minutes to allow the natural alpha-hydroxy acids in the cider do their magic on hard spots and calluses.
4) Using the orange stick, gently push back cuticles.
5) Massage a scoop of the Cranberry Seed Foot Exfoliant in a circular motion into feet and legs. Make sure to pay extra attention to heels and rough spots.
6) Rinse with warm water. "There's no need to apply lotion afterwards as the cranberry oil in the scrub is an exceptional natural moisturizer," says Perillo.
7) Clean the nails well with a non-acetone remover to remove any excess oil.
8) Apply polish: one coat of base coat, two coats of color, then one coat of top coat. "I prefer using a quick dry top coat such as Seche Vite or Qticas Quick Dry Drops," says Perillo.