By Filane Mikee Cervantes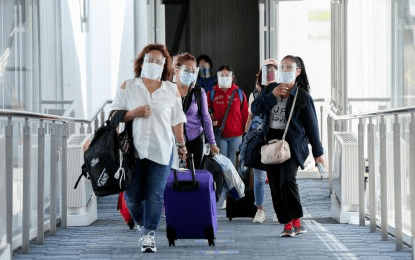 MANILA – The chairperson of the House Committee on Overseas Workers Affairs on Thursday emphasized the need for the creation of a separate and dedicated social security and retirement system specifically for overseas Filipino workers (OFWs).
During the hearing, KABAYAN Party-list Rep. Ron Salo said the proposed social security and retirement system under House Bill 8574 would provide comprehensive social protection, thus ensuring the OFWs' overall well-being.
"It would offer financial support in the event of job loss, disability, or death, providing a safety net for OFWs and their families during challenging times," Salo said.
"Additionally, it would establish a retirement fund, enabling OFWs to secure social and financial protection in their old age, granting them the dignity and peace of mind they deserve," he added.
During the same hearing, the panel also discussed the benefits and assistance that may be extended to returning OFWs affected by conflicts and disasters abroad.
The Department of Migrant Workers (DMW) and the Overseas Workers Welfare Administration (OWWA) informed the panel about ongoing activities to ensure that the government addresses the immediate and long-term welfare and livelihood needs of OFWs.
DMW Office-in-Charge Atty. Hans Leo Cacdac said OFW assistance mostly comes from the PHP1.2-billion action fund allocated for legal, medical, and humanitarian support.
Cacdac said the distribution of the fund to qualified beneficiaries began in April 2023, assisting 5,325 individuals.
Beneficiaries included OFWs affected by the Turkey earthquake, disasters in Dubai in the United Arab Emirates, and Qatar, as well as conflicts in Sudan, Lebanon, and Israel.
Cacdac said returning OFWs are eligible for an outright monetary assistance of PHP30,000, while those affected by conflicts are eligible for a sum of PHP50,000.
OWWA Director Jocelyn Hapal, meanwhile, reported that her office provides counseling, skills training, financial and reintegration planning, as well as pre-departure briefing.
"On-site, OWWA conducts counseling, and we have profiling of OFW returnees so that we have a better knowledge of their qualifications, of their credentials so that it can appropriately guide us on what reintegration needs can be provided," she said.
OWWA also has various reintegration programs, assistance for specialized repatriation cases, special livelihood and educational assistance for surviving family members, and disability and death benefits, among others.
Salo earlier said he had received instructions from Speaker Martin Romualdez for his panel to continue working during the break to deliberate on pending bills that aim to benefit the welfare of OFWs.
"This directive is made more relevant in light of the repatriation of overseas Filipino workers amidst the ongoing Israel-Hamas conflict. As our brave OFWs return to our homeland, often after enduring various challenges abroad, we believe it is our duty to provide them with comprehensive support and assistance," Salo said.
Salo said the House committee will investigate possible legislation to protect OFWs and ensure their better reintegration into society in line with President Ferdinand Marcos Jr.'s administration's programs for them. (PNA)