By Lisa Olson
SAN FRANCISCO – If you happen to take a tumble down the stairs, or if your heart rate suddenly begins to do circuit laps, Bryan Stow is the guy you'd want by your side. He is gentle, soothing, a paramedic adept at comforting the injured while saving lives.
Drunken, belligerent souls seem to be his specialty. Stow has a knack for calming people who've been in brawls, getting them to laugh while he patches up their wounds. His friends and co-workers say he's an expert at diffusing tense situations, using jokes and the common language of sports to ease hostilities.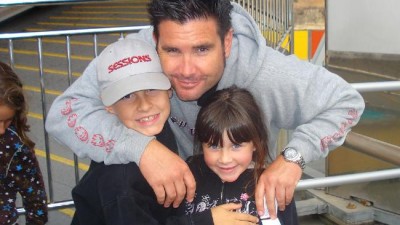 Of all the people who were walking from Dodger Stadium to the parking lot Thursday night, Stow was the most likely to turn away from a fight. According to Los Angeles police, that's what he did after two men wearing Dodger blue began to taunt Stow and two of his friends – all decked out in San Francisco Giants colors – following the season opener, which the Dodgers won, 2-1. Stow's two friends outran the assailants , who caught up with Stow, punching him in the back of his head until he fell to the pavement.
They kicked him again and again, witnesses told police, with most of the blows aimed above his shoulders. As he lay on the asphalt, bloodied and unconscious, the perpetrators fled in a four-door sedan driven by a woman. A boy was also in the car, according to reports. The victim's friends returned and found Stow on the ground, blood seeping from his head.
Six days later, Stow remains in a medically induced coma at Los Angeles County-USC Medical Center, suffering from brain injuries. Doctors have removed a portion of his skull to reduce swelling; they say he has a severe skull fracture and bruising to his brain's frontal lobes.
"There is evidence of brain injury and dysfunction," said Dr. Gabriel Zada, a neurosurgeon, adding that it was premature to make a prognosis. "It's going to be a long recovery process."
Back in the Bay Area, Stow's friends scramble to raise money to help defray the medical bills. Nobody can comprehend how someone who saves lives is now fighting for his own, ostensibly because he wore the wrong team attire.
"We get called to a lot of fights, and he's always the one to calm things down, get people laughing," Rebecca Mackowiak, an American Medical Response paramedic who worked with Stow for five years, told the Santa Cruz Sentinel. "There is no doubt in my mind that if these guys were harassing him, he just walked away.
"He is a really friendly guy and easygoing," she told the Sentinel. "There's not one person in this world who knows him who would think of him as a fighter."
Authorities continue to search for the suspects, described as two Latino men in their 20s. Security cameras around Dodger Stadium haven't yielded much, but investigators say there were plenty of witnesses to the attack. There is a combined total reward of $100,000 for information connected to the brutal beating.
How many times have we heard this replay? Fan goes to game, violence ensues. Stow is 42, a father of two and a paramedic for American Medical Response in Santa Clara County. He loves the Giants, the San Jose Sharks – he's the primary paramedic at Sharks home games — and, oddly, the Dallas Cowboys. All he did was embark on a road trip with a couple of buddies, attend a baseball game and root, root root for his beloved team. Now he may never wake up.
It's far too simplistic to blame the horrific attack on the Dodgers, though a quick trip through radio lunacy suggests there are plenty of knee-jerk moralizers following that route. But of course this could – and does – happen anywhere, everywhere: In New York and Philadelphia, in Kansas City and San Diego, in New Delhi and Sydney. Violence at sporting events predates the Roman Empire and its chariot races, when clashes between opposing supporters often resulted in gory carnage. We haven't evolved much from those days when cheering entertainers in belted tunics led to bloodshed. Only the laundry has changed.
Frank McCourt, Dodgers owner, insists Stow's beating was "an isolated incident." He calls security at the game appropriate, saying "I'm confident that all of our measures were in place, and it's just one of those things that you could have 2,000 policemen there and it's just not going to change that random act of violence."
L.A. County Supervisor Mike Antonovich wants stricter limits on alcohol sales and enhanced security at Dodger Stadium, which is owned by the team and regulated by Los Angeles and the state Alcoholic Beverage Control Board. Antonovich has offered a $10,000 reward for information leading to arrests and convictions of the suspects; the Los Angeles City Council voted to offer a $50,000 reward, the San Francisco Giants offered $10,000 and American Medical Response, Stow's employer, offered $5,000. The Dodgers matched those rewards with a pledge of $25,000.
Money talks, and it will likely lead to unearthing the alleged perps from the hole into which they have crawled. But after attempting to cleanse the mind of images of Stow lying on the Stadium pavement in a pool of blood, here's the picture that sticks: A young boy, sitting in the getaway car, possibly watching the attack, and surely hearing the gruesome details of its aftermath.
Did the men laugh as they drove away in that four-door sedan? Did the boy listen to adults brag about their toughness, about how it made perfect sense to kick and pummel a man who dared wear a rival's colors? Did he think this is merely part of the sporting experience?
Meanwhile, Stow's colleagues have set up a website for the public to follow Bryan Stow's progress, and the various benefits designed to help with his medical bills: support4stow.blogspot.com. The Giants plan to dedicate Monday's home game against the Dodgers to Stow, collecting donations at the park to benefit a fund established to support him and his family.
Here's another image, one that hopefully comes to fruition: Giants fans welcoming and embracing the fans in Dodger blue when the two rivals play here next week. Let civility, respect and common decency prevail. Let a trip to the ballpark be a shared, safe communal experience. Let the vision of Bryan Stow – a paramedic known to calm the injured, the feeble, the lubricated drunks – guide the way.