By Christopher Lloyd Caliwan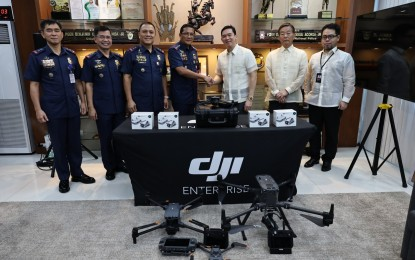 MANILA – The Philippine National Police's (PNP) security preparations for President Ferdinand R. Marcos Jr.'s second State of the Nation Address (SONA) got a boost after it received drones from a leisure and casino firm on Friday.
PNP chief Gen. Benjamin Acorda Jr. received the drones from Okada Manila president and Okada Foundation Inc. trustee James Lorenza and his team in turnover rites at the PNP headquarters in Camp Crame, Quezon City.
The firm donated four units of DJ Mini 3 Pro drones and one unit of DJI Mavic 3 Thermal Enterprise drones.
This initial donation is part of a total contribution of 43 units of DJ Mini 3 Pro drones and one unit of DJI Mavic 3 Thermal Enterprise drones, along with one unit of Aerovene Drone Jammer, with a combined value of PHP10 million.
These drones are equipped with state-of-the-art features, including high-resolution cameras, thermal imaging capabilities, and real-time data transmission and are expected to play a pivotal role in maintaining peace and order during the President's SONA on July 24.
Acorda emphasized the crucial importance of drones in supporting the PNP's mission to safeguard citizens, uphold the rule of law, and maintain peace and order.
"The importance of these drones cannot be overstated. Embracing technological advancements, such as these drones, enhances our capabilities and allows us to carry out our duties with even greater efficiency and effectiveness," Acorda said shortly after the turn-over rites.
Acorda said the deployment of these unmanned aerial vehicles will provide crucial aerial surveillance during the SONA event.
These drones, he said, can monitor crowds, traffic, and potential security threats from a strategic vantage point.
He added that the integration of drone technology empowers the police force to respond swiftly and proactively to various incidents.
Acorda urged all members of the PNP to embrace these technological advancements with dedication and responsibility.
"Let us approach the upcoming SONA with professionalism, vigilance, and perseverance. May these drones provided by Okada Manila be a symbol of our concern for the welfare of the public and our dedication to ensuring peace and order," he said.
Imee to grace PCR Day
Meanwhile, Senator Imee Marcos will be the guest-of-honor and speaker at the upcoming Grand Police Community Relations (PCR) Day on Saturday.
The event is part of the monthlong PCR Month celebration to be held at Camp Crame, Quezon City.
Among the highlights of the event is the oath-taking ceremony for officers and members of the Anti-Crime Coalition for Peace and Progress International (ACCPPI), a people's organization in partnership with the PNP.
The ACCPPI plays a vital role in promoting peace and progress within our communities.
Following the oathtaking rites, the grand launch of the PNP Help and Foodbank will take place, further solidifying the PNP's dedication to public service.
This initiative will provide vital assistance and support to individuals and families in need in times of calamities, the PNP being the first responders.
Simultaneously, the PNP will commence the BIDA Caravan of PNP frontline services and invited merchant partners.
This aims to bring essential police services closer to the people by offering various services and information on crime prevention, public safety, and community assistance.
"Let us carry the spirit of togetherness, trust, and shared responsibility as we celebrate the Grand PCR Day. I extend my heartfelt gratitude to all those who have contributed to making this event possible. Together, we shall continue our commitment to serve and protect the Filipino people," Acorda said.
Presidential Proclamation No. 764, dated January 24, 2005, declares the month of July every year as Police Community Relations Month. (PNA)