By Stephanie Sevillano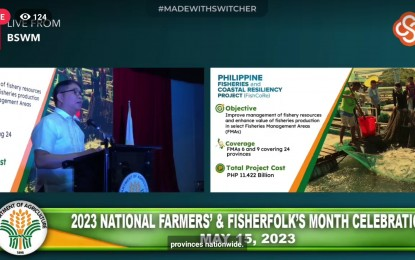 MANILA — The Department of Agriculture (DA) on Monday assured that the administration is working to protect farmers and fishers from the impact of climate change.
In a speech during the celebration of the National Farmers and Fishers Month, DA Senior Undersecretary Domingo Panganiban vowed continued support of the administration to the agriculture sector.
"This year, President Ferdinand Marcos Jr. has ordered the single greatest annual investment in climate change for the farm and fishery sector, with more than PHP25 billion for research, new technologies, training, and infrastructure to allow the sector to adapt to climate-related impacts," he said.
"The Marcos administration will continue to push for stronger support for the sector, given the budget that we are asking for. Because expanding investments along the food value chains will create jobs, especially for the marginalized sectors of our society," he added.
Domingo said the farmers and fishers, who serve as the food security goal front-liners, are worthy of recognition for their "selfless hard work."
In support of the country's agri-frontliners, DA Assistant Secretary Arnel de Mesa said the administration has included another four major programs.
These include the PHP2.3-billion Adapting Philippine Agriculture to Climate Change project, which covers the Cordillera Administrative Region (CAR), Cagayan Valley, Bicol Region, Northern Mindanao, and SOCCSKSARGEN; the Philippine Fisheries and Coastal Resiliency Project (FishCore) worth PHP11.422 billion for 24 provinces; the PHP6.625-billion Mindanao Inclusive Agriculture Development Project for 26 ancestral domains; and the Philippine Rural Development Project, with the highest budget of PHP45.012 billion, covering 82 provinces in the country.
To date, the DA has over hundred billions of pesos worth of projects in the country to help farmers and fishers in improving yield.
"We have actually 65 active sub-projects worth over PHP200 billion, many of which are funded by the FAO (Food and Agriculture Organization of the United Nations) of course, of the World Bank, and other multilateral, bilateral partners, including locally funded projects," de Mesa said in mixed English and Filipino.
The DA, meanwhile, recognized various contributors, both groups and distinguished farmers and fishers, for their outstanding accomplishments in the agriculture sector.
Among those awarded groups were the Tublay Organic Practitioners Agriculture Cooperative, One Samar Agro-Organic Practitioners Inc., Kayapa PGS Group; as well as Blessed Corean Swine Raisers Association, D. Riconalla Farmers Association, and Lala Fishermen's Cooperative.
Farmers and fishers from various categories were also recognized including Edgar de Luna and Dr. Richard Turno for distinguished corn and cassava farmers; Enrico Batungbacal, Basilio Ngaseo Jr., and Dick Evasco for high-value crops category; Luis Bausa, Juan Amormio Cabardo, and Margareta Joseph for urban and peri-urban program; Chester Warren Tan, Rolando Tambago, and Dr. Angel Antonio Manabat for livestock programs; and Ramir Rendon, Conchita Roldan, and Roberto "Ka Dodoy" Ballon for the Bureau of Fisheries and Aquatic Resources' outstanding fisherfolk. (PNA)