By Ma. Teresa Montemayor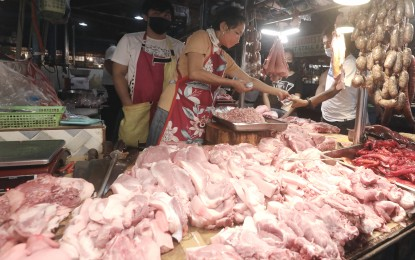 MANILA – The Department of Agriculture (DA) on Thursday warned against the selling of frozen meat passed off as fresh in the wet market, saying this can put consumers' health at risk.
In a statement, the DA noted that the risk may be due to the absence of refrigeration facilities in wet markets and vendors' lack of knowledge on handling frozen meat.
DA Undersecretary Deogracias Savellano said they are collaborating with the Department of Trade and Industry (DTI) to rid public wet markets of health-hazardous frozen products.
"Walang problema ang imported na karne. Huwag lang ibenta na sariwa sa palengke (There is no problem with imported meat, but their handling and selling as fresh meat in the market is the concern)," he said.
The DA also advised consumers to look for the seal of the National Meat Inspection Service (NMIS) and the documents of the local government unit's slaughterhouse to ensure food safety.
The NMIS seal can be seen on the meat being sold. It signifies that the meat was inspected before and after the animal had been slaughtered. It assures the public the meat is safe for their family's consumption.
DA Administrative Order 6-2012 prohibits frozen meat from being sold in the wet market.
Frozen meat should only be confined to hotels, restaurants, and supermarkets that have refrigeration facilities and handling expertise.
Savellano reported that the DA is also examining the price difference between poultry being sold in the market and farmgate prices.
While the price of poultry's sold in the wet market has been increasing, the farmgate price has been decreasing.
"Ang mga nag-aalaga ng manok ay dumadaing sa mababang presyo na kuha sa kanila ng mga biyahero (Poultry farmers have been complaining over the low price at which traders buy their produce)," he said.
The excessive dumping of frozen meat in the wet market could be the cause of the decrease in the farmgate price of poultry, he added.
He explained that poultry farmers could be cutting maturity days for harvesting poultry down to 27 or 28 days instead of 30 days to meet poultry demand in time for the Christmas holidays.
Three-pronged objective
The DA is aiming to raise supply and production, bring down prices for consumers, and raise farmers' income.
By increasing feed production, the department also aims to reduce prices for consumers.
The DA is expanding corn plantations to bring down feed costs of poultry farmers to reduce the prices in the market.
It also requested Malacañang to grant them the authority to manage and administer African swine fever and avian flu vaccine.
The grant can hasten the processing of vaccine access to the industries, which is critical to the prevention of the spread of diseases among livestock.
The DA has a conflict with the Food and Drug Administration regarding vaccine access. (PNA)