SO LA
By Jannelle So
I've always liked a German car. And my Dad has always been a fan of Toyota. You see the difference there? I'm okay with any German-produced and German-engineered automobile. And he'll only drive a Toyota. That's brand-loyalty at its finest. When time came for me to start driving in the Philippines, he bought me my first car, of course, it was a Toyota. Since he was paying for it, I had no say, except for what color it would be.
So when I finally started working here and earning my own way, I decide to get myself that nice German car. And I was driving it for about five years when I realized my Dad was right. Epiphany hit me: I needed and deserved a better car – a Prius! And the reasons are obvious.
Gas prices keep going up. According to AAA's Daily Fuel Guage Report as of April 6th, the average price for a gallon of regular unleaded gasoline in the Los Angeles-Long Beach area rose to $4.10, up 20 cents from the $3.90 average of a month ago. People have been tweeting about it, too. @TsenereS tweeted that regular unleaded in his area was at $4.32.
Typically, these rates go up during the summer months. And experts have always tried to explain that – more travelers during the summer vacation. But case is different this year. The Pasadena Star-News has reported that prices have increased nearly 64 cents per gallon since the beginning of 2011. Libya produced nearly 2 percent of the world's oil, and the rebellion has shut down most of the OPEC country's exports. Other OPEC members are covering the shortage from this shutdown, but if the conflict extends, there could be a threat to the world's overall oil production.
And we just entered the spring season here in the States. Who knows where these prices will find the summer months? As it is, some people are already scaling back on other expense just to be able to afford gasoline prices.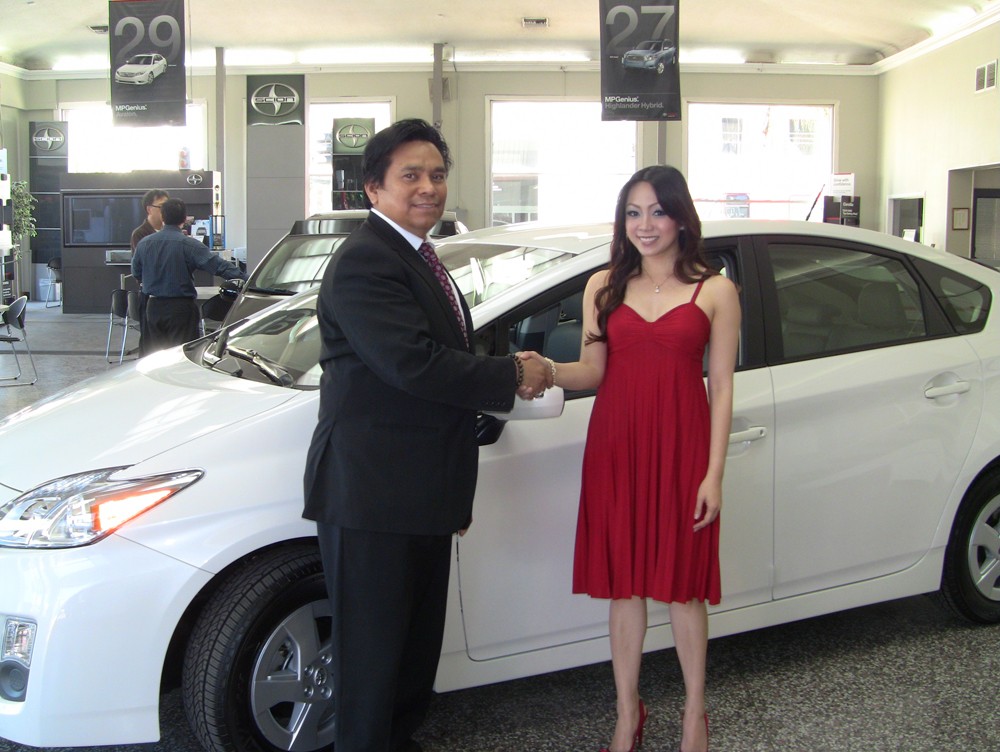 With Roberto Tavera, Toyota Central Fleet Sales Manager
But that you won't have to do with the Prius. The first-generation was rated 41 EPA combined mpg (miles per gallon). This was replaced by a second-generation model which is EPA rated at 46 mpg, combined city/highway driving. And with the 2010 model using a combination of technologies, fuel efficiency was increased to an estimated 50 miles per gallon for the latest edition of the Toyota model. In other words, for your regular commute using a different car, you won't need to gas up as much with the new Prius. In short, you are able to save. In English, you are getting better value.
I got my new Prius on a Friday and drive it from Toyota Central in downtown Los Angeles to the studio in West LA. After taping "Kababayan LA," I drove back to Torrance where I live. On Saturday and Sunday, I drove it all over the South Bay, running errands. Monday, the commute was from Torrance to work in West LA; to a meeting in Santa Monica; and another meeting in Fontana; back to the house in Torrance. I felt like a taxi driver, drove about 160 miles. On Tuesday I drove from the South Bay to a meeting in City of Industry; then to West LA for taping; then Torrance. On Wednesday, drive from Torrance to West La; then to a meeting in Downtown Los Angeles; back to the South Bay. All that driving and I only needed to gas up Thursday morning.
Now, if you want a less self-savings-centered reason for choosing your car, you can also drive toward greener pastures. It's time we all became conscientious consumers of natural resources; not just using and abusing Mother Nature, but also concerned about replenishing and saving it for the future generation. So if you decide to lower your carbon footprint, go the Prius route.
Toyota Prius is perennially hailed by experts as the leader in the four-door sedan field in fuel economy and lowest lifecycle greenhouse gas emissions. Others have simply declared it as "The Best Hybrid" in the market. John Addison has just filed a report at www.cleanfleetreport.com. And it is no wonder that www.automotive world has reported that Toyota Prius sales have just topped the 1 million mark in the United States market.
So now, after arguing for years with my Dad about different things in life – dating, moving to California, career, etc. – I come to the conclusion that perhaps it's not a famous and widely-used saying for nothing: Parents know best. In this case, Daddy knows best.
And if this column has gotten you to consider replacing your car with a Prius, go to Toyota Central in Downtown Los Angeles. They helped me. I'm sure they will take care of you. Look for Roberto. When it comes to the Prius, he knows best!
Jannelle So is Host/Producer of "Kababayan LA" that airs daily at 4:30pm on KSCITV-LA18. Catch previous programs at www.youtube.com/kababayanla18. Email her at kababayan@la18.tv.