By Jean Malanum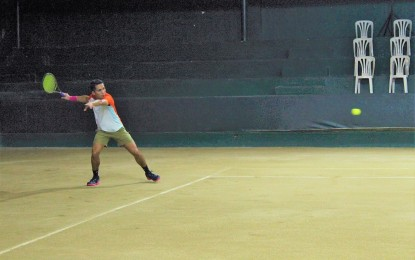 MANILA – Noel Damian Jr. of Zamboanga City stunned top seed Johnny Arcilla, 7-6, 1-6, 6-2, to reach the men's singles semifinal of the Metro Manila Open tennis tournament at the Philippine Columbian Association (PCA) indoor shell court in Paco, Manila on Thursday.
The 5-foot-10 former national soft tennis player fought hard throughout the match to pull off the upset win over Arcilla, a 10-time PCA Open champion.
"I feel so proud of this victory, I didn't expect it," said the 26-year-old Damian, who won the team gold medal in soft tennis at the 2019 Manila SEA Games with Mark Alcoseba, Kevin Mamawal, Mikoff Manduriao, Dheo Talatayod and Joseph Arcilla.
After surviving a tough first set, Damian suffered cramps in the stomach and legs, allowing Arcilla to take the second set.
But Damian slowly regained his composure and took command in the third set to claim victory.
"I'm determined to win so I did my best," said Damian, who also played for the San Beda College high school tennis team. He is currently the assistant of SBC college coach Jovy Mamawal.
Damian will face wild card entry John Bryan Otico in the semifinal round after the Loyola Marymount University graduate defeated qualifier Dave Mosqueda, 6-1, 6-3, in the quarterfinal.
"I'm ready to face anyone. I'm confident with my game," said the 23-year-old Otico of Maramag, Bukidnon province.
Meanwhile, sixth seed Joma Pague of Zamboanga Sibugay displayed nerves of steel to conquer second seed Elbert Anasta, 6-4, 4-6, 6-2.
"I had expected a tough match because Anasta is a very good player," said the 22-year-old Pague, who beat Anasta in the final of the Brookside Open in Cainta, Rizal two weeks ago.
"Hopefully, I can continue my winning form and make it to the final," said Pague, who will meet another wild card entry Arthur Craig Pantino, who scored a 6-4, 6-4 victory over Alexis Acabo.
As expected, top seed Marian Capadocia and second seed Alexa Joy Milliam reached the women's singles semifinal of the event sponsored by Sulu Vice Governor Toto Tan, Marawi City Mayor Majul Usman Gadamra, East-West Customs Brokerage Corp., San Jose Salt, Gimaca Realty Corp. and Legalas Trading Corp.
Capadocia, 27, outclassed Elizabeth Abarquez, 6-2,6-0, to arrange a semifinal duel with sixth seed Makeilah Nepomuceno, who won over wild card Kim Iglupas, 6-3, 2-6, 5-5 (ret.).
Iglupas, a teammate of Capadocia in the national team, suffered cramps in her right leg.
The 17-year-old Milliam, on the other hand, prevailed over Mikaela Vicencio, 6-1, 6-4, to advance against wild card Jesselle Marie Ante, who got a free ride to the semis following the no-show of fourth seed Kaye Ann Emana.
The tournament offers PHP300,000 to the men's singles champion and PHP150,000 to the women's singles champion. Cash prizes at stake in the doubles competition are PHP80,000 in the men's division and PHP50,000 in the women's and mixed divisions, respectively. (PNA)