By Wilnard Bacelonia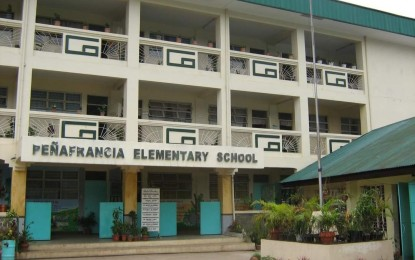 MANILA – The City Schools Division Office (SDO) of Antipolo announced on Tuesday that the Department of Education (DepEd) Calabarzon already issued an order directing a fact-finding team to look into the death of a Grade 5 student of Peñafrancia Elementary School in Mayamot, Antipolo City 11 days after his teacher allegedly hurt him inside the classroom.
In an official statement, SDO Antipolo also announced that it has formed another team that will provide interventions for learners and teachers.
"As the Disciplining Authority, the Office of the Regional Director has issued an order designating a Fact-Finding Investigation Team and directing the committee to conduct immediate, cautious, and comprehensive fact-finding investigation in recognition of the right of both parties to be heard as part of due process," the statement read.
"DepEd Antipolo has formed a team of selected Registered Guidance Counselors, School Health Nutrition Unit (SHNU) Representatives, Youth Formation Development (YFD) Coordinators, EPS in Edukasyon sa Pagpapakatao, Child Protection Specialist and Focal Person to help and assist with the possible interventions like reorientation on Child Protection Policy of all concerned stakeholders, and debriefing of concerned learners and teachers," it added.
The SDO Antipolo also noted that the school principal has assigned an alternate teacher to handle the classes of the concerned teacher who is currently on official leave.
"We are saddened by the death of our dear learner and we express our deepest condolences and prayers to the bereaved family. Rest assured that the Department recognizes the best interests of our learners as primordial consideration," the official statement said.
In a radio interview, the parents of the student named Francis Jay Gumikib, 14 years old, claimed that the teacher pulled their son's hair and slapped him after reporting about his noisy classmates on Sept. 20.
Francis' mother, Elena recalled that her son felt pain on his ear and dizziness after the incident but still managed to continue going to school.
On Sept. 26, Francis started to vomit while experiencing headache and dizziness which prompted his parents to rush him to the hospital.
His doctor found internal bleeding inside his brain and eventually died on Oct. 2.
In a Viber message to reporters earlier, DepEd spokesperson Undersecretary Michael Poa clarified that DepEd regional offices have the jurisdiction over cases involving teachers.
"Nakausap po natin ang (We have already talked to the) SDS [Schools Division Superintendent] concerned. They are already looking into the matter and is waiting for a report from the Principal re[garding] the incident. The SDS will also be personally going to the subject school tomorrow to make further inquiries," Poa said.
The Antipolo City Police is also looking into the incident and may file appropriate charges against the teacher. (PNA)