By Wilnard Bacelonia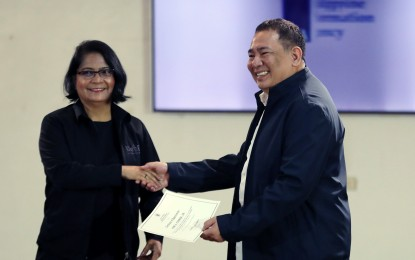 MANILA – The Department of Education's Bureau of Learning Delivery (DepEd-BLD), together with partners in public and private sectors, showcased on Tuesday various technologies that will help the blind and other persons with visual disabilities get access to print and online learning materials.
The event took place simultaneously with the celebration of the White Cane Safety Day held at the Philippine Information Agency (PIA) Auditorium in Quezon City.
In her keynote message, DepEd-BLD Director Leila Areola reiterated the agency's commitment to support visually impaired learners under the MATATAG Agenda.
"Imbedded deep within the MATATAG Agenda of the Department of Education is a commitment to nurture our learners by fostering their well-being, promoting inclusive education, and cultivating a positive learning environment. We steadfastly believe that fortified by our unwavering support, we can realize these goals for our visually impaired learners," Areola said.
"Our shared vision for the 2023 White Cane Safety Day is that it may serve as a platform for rejuvenating our partnership, bolstering our support services, and rekindling the spirit of Republic Act No. 6759 (White Cane Act) and let this day be an enduring reminder of our collective footing to respect and care for our visually impaired community," she added.
The White Cane Act is to promote and protect the physical, moral and social well-being of all persons with visual impairments; to instill public awareness of the plight of the blind; promoting recognition and acceptance of the "white cane" as a symbol of their mobility and independence.
Among the exhibitors in the event was the KGS Philippines which featured the Next Touch 40, a device that allows visually impaired individuals to access digital content through touch by converting text into Braille characters.
The Pacific Vision also featured various hand held magnifiers, text-to-speech devices, among others.
With DepEd, the Department of Health, National Council on Disability Affairs, Department of the Transportation, Resources for the Blind Inc., Bookshare Philippines, parents advocates for visually impaired children and the Philippine Blind Union also expressed their full support for this year's White Cane Safety Day celebration. (PNA)