By Joyce Ann L. Rocamora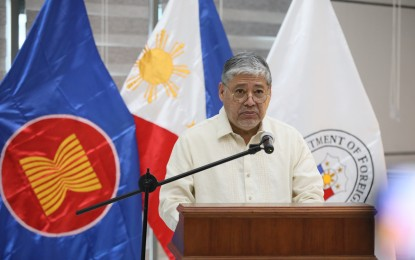 MANILA – Foreign Affairs Secretary Enrique Manalo on Tuesday reiterated that the Philippines recognizes Israel's right of self-defense as its war with the Hamas group in Gaza rages.
Manalo said the safety of the over 30,000 Filipinos living and working in Israel remains a priority for the Philippine government.
"We have already issued statements condemning the events, especially the targeting of civilians, and we've also recognized the right to self-defense of Israel in accordance with the United Nations Charter," Manalo said in a press conference from Australia.
The Philippine Embassy in Israel, he said, is also working with authorities to confirm the veracity of reports of Filipinos allegedly kidnapped by Hamas.
There are still seven Filipinos unaccounted for, one of whom was seen being held by armed individuals on a video the embassy recently received.
READ: Travel to Israel postponed 'indefinitely'; 7 Filipinos missing
Based on the Department of Foreign Affairs' latest advisory, 22 out of the 29 distressed Filipinos in Israel have so far been rescued by Israeli forces.
In a Bagong Pilipinas Ngayon interview, Israel Ambassador Ilan Fluss assured the Philippines that his government is committed to protecting foreigners there, including Filipinos.
"We're committed to them the same as we are committed to the well-being of Israeli citizens. We do not discriminate," he said. "They get the same protection and they should follow the same protocols. They live with us and amongst us."
Fluss said Israel is now in the "final stages of stabilizing" the situation but there are still attempts by the Hamas group to enter Israel through the border by air, sea and land.
The death toll since the deadly strike against Israel was launched has risen to more than 900 and is likely to increase, Fluss said.
"We still have some pockets where there are still some terrorists inside Israel. Towns and villages, all of them have been cleared out of the terrorists, but still there is no total freedom of movement there," he said.
"The attacks against Israel are continuing. However, we're trying to regain control and preparing ourselves for the next stage," he added. (PNA)