By Joyce Ann L. Rocamora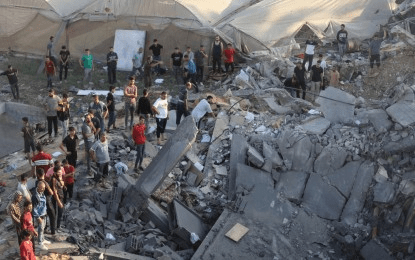 MANILA – The Department of Foreign Affairs (DFA) on Tuesday said Israel must ensure that its actions amid its continuing offensive against the Hamas militant group follow international humanitarian law and that no civilians are targeted.
"There's the right to defend yourselves, what we just want is whatever actions Israel will take in defense of themselves will follow humanitarian law, na wala silang ta-targetin na civilian, wala silang ta-targetin na mga innocents lalo na 'yung susubok tumakas (that they will not target any civilian, that they will not target innocents especially those who want to escape)," DFA Undersecretary Eduardo Jose de Vega said in a radio interview over DZRH.
He said Manila, which has recently made a bid to get one of the non-permanent member seats at the United Nations Security Council (UNSC), would also follow any resolution the body would adopt in response to the escalating conflict.
"Our position is we're not going to criticize Israeli actions until mapatunayan na they are deliberately harming civilians (it is proven that they are deliberately harming civilians)," De Vega added.
The UN said around one million civilians in Gaza have been uprooted in the last week, after Israel warned of an imminent offensive following the deadly Oct. 7 Hamas attacks on southern Israel.
Based on its latest data, some 1,300 Israeli citizens and a reported 2,750 people in Gaza have been killed since the war broke out.
Fourteen staff from the United Nations Relief and Works Agency for Palestine Refugees have also been killed.
The UNSC has earlier rejected a Russian resolution on Gaza over the lack of specific condemnation of Hamas.
The draft text had called for a humanitarian ceasefire, release of all hostages, aid access and safe evacuation of civilians but made no mention of the group.
Only five countries voted for the draft — China, Gabon, Mozambique, Russia and the United Arab Emirates — and four others voted against it — France, Japan the United Kingdom, and the United States. Six countries abstained.
A minimum of nine votes in favor with none of its five permanent members (France, US, China, Russia and the UK) opposing or casting a veto is needed for the council to adopt a resolution.
Terror tag
Meanwhile, De Vega confirmed that the designation of Hamas as a terrorist organization was discussed during a meeting between Israeli Ambassador Ilan Fluss and DFA Secretary Enrique Manalo on Oct. 17.
But he pointed out that only the Philippine Anti-Terrorism Council could designate the group as a terrorist.
"Sabi ng Israel, we're gonna give you more evidence, kasi sabi nila 'yong Hamas meron din daw Hamas sa Philippines, ganyan (because they said that there's also Hamas in the Philippines)," he shared.
"We'll have to check 'yong political security network natin, establishment ano 'yong final decision about the Hamas lalo na kung may ebidensya nga na mayroon silang mga operatives sa Philippines (We'll have to check our political security network, our establishment what is the final decision about the Hamas especially if there is indeed evidence that they have operatives in the Philippines)," he added. (PNA)