MANILA, Jan 18 (Mabuhay) – Filipino jobseekers were warned on Tuesday against falling for dubious online job offers promising employment as nurses in the United Kingdom (UK).
The Department of Foreign Affairs (DFA) said a report on the offers from the Philippine Nurses Association-UK prompted the warning from the Philippine Embassy in London.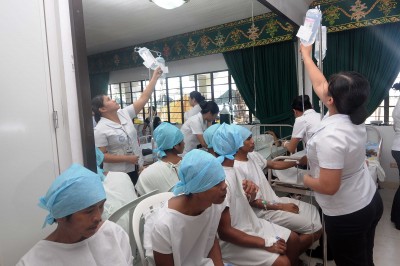 "The new illegal recruitment scheme involves online job offers sent by email to prospective victims, mainly nurses, who have previously submitted their resumes in public job search websites," the DFA said in an article posted on its website.
The DFA said the modus operandi involves the supposed employer and/or his solicitor (lawyer) sending the victim successive emails.
The emails contain a job offer, a Contract of Agreement with a very attractive package of wages and benefits, a Certificate of Employment, and a blank Certificate of Good Moral Character.
Once the victim submits the required documents, he or she will then be sent detailed payment procedures of processing fees via wire transfer.
The supposed solicitor-lawyer usually identifies himself or herself as a member of a prominent legal firm or as an employee of the high court.
"In some cases, the employer sends photographs of his family in the UK via email in an attempt to assure the applicant that the process is legitimate," the DFA said.
However, once the applicant pays the fees, the so-called employer and solicitor cut all contact.
The DFA noted this modus operandi is similar to other online scams earlier reported by the Embassy involving job offers for nannies, au pair, hotel staff, store managers, salespersons and engineers.
It advised the public to always verify job offers to the UK with the Philippine Overseas Employment Agency (POEA).
They may likewise send a request for job offer verification to the Philippine Overseas Labor Office (POLO) at polo.london@yahoo.co.uk or embassy@philemb.co.uk, the DFA added. (MNS)