JERUSALEM (Nov. 15) – Leonardo DiCaprio and his longtime girlfriend, model Bar Refaeli, arrived in Israel for their second holiday in Refaeli's birthplace – and this time he brought his mother to meet Refaeli's parents, stoking rumors of an impending marriage.
DiCaprio swooped into Tel Aviv last week, scooped up Refaeli in a private jet and swept her off for a weeklong holiday on the Nile in Egypt and then Jordan to celebrate the actor's 36th birthday.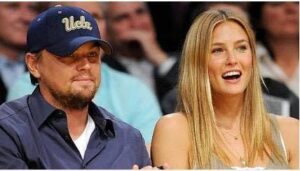 They were joined by his mother, Irmelin, and close friends supermodel Naomi Campbell and "Entourage" star Kevin Connolly.
The couple landed at Ben-Gurion Airport on Sunday in a private jet and sped off to the presidential suite at the Dan Hotel in Tel Aviv – occupied last week by Pamela Anderson.
Israeli commentators said the security surrounding the couple – including fast-track VIP treatment at Ben-Gurion Airport, a convoy of armored cars with darkened windows and walkie-talkie-whispering security goons armed with umbrellas to shield the stars from waiting photographers – would not have embarrassed a visiting head of state.
Suites were booked at four different hotels in Tel Aviv to try to throw the paparazzi off the scent. DiCaprio's last trip to Israel with Refaeli three years ago was marred by violent encounters between the notoriously pushy local snap-pack and Refaeli's father, a former Mossad agent, who punched out a photographer.
They are due to stay in Israel until Thursday, with plans to visit the Western Wall in Jerusalem, the world's lowest spot at the Dead Sea, and generally hang out with Refaeli's family at their ranch-style home, complete with horses, in Hod HaSharon north of Tel Aviv.
Refaeli, 25, and DiCaprio have remained famously tight-lipped about their four-year relationship.
"I see myself being a mum, going to university and definitely doing some kind of work to help people, whether it's hospitals or sick kids or peace projects," she told this reporter soon after her first trip home with DiCaprio. "I want to have at least three children. I hope I will be able to bring them up in Israel. I had a very beautiful childhood, and I hope that my kids will be able to experience the same thing. But I don't know. It depends on the circumstances. It depends who you decide to have your children with. Maybe it will be in Japan, because I'll choose a Japanese guy. You never know."
The couple went through a six-month break in 2009, but Refaeli said she found it difficult dating other men. They reconciled in December. Afterward, she said the split was what they both needed, as it made their relationship even stronger.
Engagement rumors began swirling after the couple were spotted at a romantic dinner in Berlin on Valentine's Day, when Refaeli wore an impressive diamond ring.
"I am not thinking about getting married," she said soon after. "I'm still young. And when I do get engaged, I might even hide the ring. I want it to remain private."
Her mother, Tzipi Levine, a former model and glamour girl who once dated Warren Beatty, told this reporter she had no objection to DiCaprio as a son-in-law.
"This is her choice. I'm happy for her when she's happy. Any man is lucky to be dating my daughter," she said.
There is one skeleton in Refaeli's designer closet: her first husband, 23 years her senior, whom she married to avoid serving in the Israeli army. Her mother said she was ill, but she walked away from an army inquiry held to clarify her medical condition.
Refaeli married Ari Weinstein, a wealthy friend of her father, in October 2003. The tiny ceremony, attended by just a dozen people, took place in secret in Petach Tikvah, northeast of Tel Aviv. They divorced in March 2004 and apparently never lived together, but her ex-husband remains ambiguous about the nature of their relationship to this day.
Haim Etgar, an Israeli show business reporter who has produced a documentary about the country's entertainment and glamour industry featuring Refaeli, managed to secure a rare interview with Weinstein, who now lives in New York.
"What was the purpose of the marriage? How did it occur? Some people, including high-ranking army officers at the time, say it was a fictitious marriage. There was a lot of dismay about using the marriage to get out of the army. It's still a hot issue," Etgar told AOL News.
Etgar says Refaeli is a "test case" of how a determined mother can help her daughter to become famous, even lining up her teenage dates with the sons of the rich and famous.
"Her mother is a brilliant person, her promoter and her agent. She's done all the right moves, she hasn't left anything to chance. But there are some people who are outraged by their behavior," he said.