By Zaldy De Layola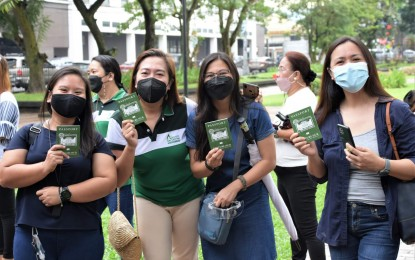 MANILA – House Speaker Ferdinand Martin G. Romualdez on Monday emphasized the importance of digital public infrastructure (PDI) to women empowerment.
Romualdez made this remark after listening to the recent lecture of philanthropist and woman advocate Melinda French Gates at the World Bank-International Monetary Fund (WB-IMF) Spring Meetings at the IMF headquarters in Washington D.C.
"Melinda French Gates mentioned how important the digital public infrastructure is to women's empowerment. DPI provides them access to capital and opportunities. It gives them dignity and respect and allows them to engage in more activities," Romualdez said.
The representative of the 1st district of Leyte said French Gates' remarks "impressed and inspired" him, assuring that Filipino women would not be left behind in the Marcos administration's push for the Philippines to adopt digital public infrastructure.
Romualdez said French Gates has written about women empowerment and is an advocate of increasing the number of women technologists in the workplace, having seen first-hand how men dominate the field.
"French Gates' words ring true in that even in this day and age, women are still marginalized professionally," he said. "We cannot keep ignoring this unfortunate situation if we are to truly have an inclusive society. Luckily, digitization can be the great equalizer and place women on equal footing as men in terms of work opportunities, power, and influence."
Earlier, Romualdez also attended a lecture on DPI where he had a chance to speak to Nandan Nilekani, one of the founders of Indian multinational information technology company Infosys.
Romualdez suggested that the Philippines enter into a digital public infrastructure partnership with the United States and India.
"There should be no stopping women from being key players in this infrastructure. We will make sure to empower women in this regard through legislation, once we have laid down this digital public infrastructure," he said.
Romualdez has been a staunch supporter of the women's movement in the House of Representatives, giving top posts to numerous women legislators.
"Women empowerment has definitely worked in our collective favor in the House of Representatives. To see this replicated across all workplaces through the flywheel of digitalization, will make French Gates proud," he said.
He earlier said that digitalization will "prove to be the panacea to the economic problems left behind by Covid-19."
He said building public digital platforms "is very much aligned with the campaign promise of President Marcos to speed up the country's digital transformation." (PNA)