By Christopher Lloyd Caliwan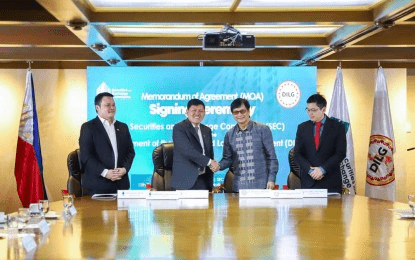 MANILA – The Department of the Interior and Local Government (DILG) and the Securities and Exchange Commission (SEC) fortified their partnership in battling online scams.
DILG Secretary Benjamin Abalos Jr. and SEC chairperson Emilio Aquino signed a memorandum of agreement for the measure at the SEC main office in Makati City on Tuesday, the DILG said in a news release on Wednesday.
Under the pact, the DILG would support the SEC's campaign against financial scams, particularly the agency's Anti-Scam and Illegal Taking of Investments Group (ASTIG).
"This partnership is very timely as we need to educate the public about the fast-growing menace of investment frauds," Abalos said.
Citing data from the Philippine National Police-Anti Cybercrime Group (PNP-ACG), the DILG chief said around 8,000 online scam victims have already lost some PHP155 million to fraudsters from January to August this year.
He added that the SEC and DILG will collaborate to equip Filipinos with the knowledge of financial principles and on avoiding the traps and techniques of investment scams.
These efforts will lead to early reporting and detection of any illegal financial schemes, he said.
Meanwhile, Aquino said the DILG, as overseer of local government operations, serves as the SEC's "best link to investor education and protection" at the grassroots level.
"I am confident that the DILG, as purveyor of excellence in local governance, will be a key driving force to the network's greater success," he said. (PNA)