By Marita Moaje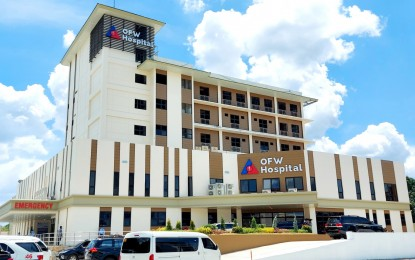 MANILA – The Department of Migrant Workers (DMW) has vowed to improve the services of the overseas Filipino workers (OFW) Hospital located in San Fernando, Pampanga after it was criticized and described as a "ghost town" by Sen. Raffy Tulfo after he visited the place on July 1.
In a radio interview on Thursday, DMW Undersecretary Hans Leo Cacdac said that they agree with the observation of Tulfo that the hospital's services need to be improved.
"We are one with the finding of the good senator, talagang (it really) needs improvement, and we are working closely with the office of the good senator para mapalawig pa itong services sa (to further expand the services of the) OFW hospital," he said.
Currently, Cacdac said they are working on the bill, already passed at the House of Representatives in May, placing the supervision of the OFW Hospital under the direct supervision and control of the DMW.
Under House Bill 8325 or the "Overseas Filipino Workers Hospital Act, the OFW Hospital which opened in June last year offers comprehensive health services primarily to OFWs and their legal dependents.
Cacdac said they have been assured by Tulfo that he will be championing the Senate version of the bill.
He explained that the OFW Hospital's in-patient facility only opened this year, with a 40-bed capacity.
"So far, 177 yung naging in-patient natin. Yung out-patient category, this is only for this year, 12,364 ang napagsilbihan ng ospital. Merong emergency care or emergency room — 893. Meron ding ambulant services. Total na natulungan so far ng (So far, there have been 177 in-patients. The out-patient for this year has served a total of 12,364. The emergency room has catered to 893 patients. We also have ambulant service. The total number of patients serviced by the) hospital is 13,625," Cacdac said.
He said that they are also coordinating with the Department of Budget and Management (DBM) for the completion of the hospital staff.
As of now, Cacdac said the hospital has 67 nurses and an equal number of doctors.
However, he said these are not yet regular employees as they still do not have a plantilla opening.
Meanwhile, Cacdac said the out-patient services will now be open during weekends.
During his visit, Tulfo lamented that there are very few patients because the hospital's out-patient department is closed on weekends.
Cacdad said they will also prioritize the procurement of supplies.
"Ang nadatnan ni Senator Raffy dun, me gamot naman kaya lang walang shelf, aminin naman natin na pwede pang padamihin kaya isinasagawa na ngayong buwan yung (When Senator Raffy came, there are medicines but there are no shelves, we admit that we can still add more medicines that is why this month we are looking for the) procurement of additional medicine," he said.
Aside from current OFWs, Cacdac said the hospital will also cater to former OFWs as well as dependents and families of OFWs. (PNA)