By Ferdinand Patinio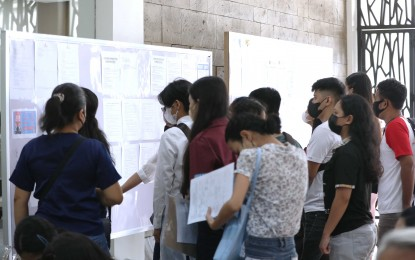 MANILA – At least 15,000 job seekers went to the different job fairs nationwide in connection with the Labor Day celebration on May 1, the Department of Labor and Employment (DOLE) reported on Monday.
Based on the initial report, the DOLE said a total of 15,049 applicants have visited job fair sites, as of 1:00 p.m. Monday.
Of the number, a total of 673 job seekers were hired-on-the-spot (HOTS) representing 4.47 percent.
A total of 426 were referred to Technical Education and Skills Development Authority (TESDA), 203 were referred to Department of Trade and Industry (DTI), 1,810 applications were referred to other participating agencies while 142 were referred to livelihood.
The top five positions for HOTS are service crew where 24 were immediately hired, followed by Financial Advisor with 13; production clerk, 8; cashier, 7; and driver, 6.
The DOLE noted that the initial data do not include figures from Region 10.
Simultaneous job fairs are being held nationwide as the country celebrates Labor Day.
This year's theme is "Pabahay, Bilihing Abot-Presyo, Benepisyo ng Matatag na Trabaho Para sa Manggagawang Pilipino (Affordable Housing and Basic Commodities, Stable Job For Filipino Workers."
Over 70,000 employment opportunities are available at the sites from more than 700 employers. (PNA)