MANILA, December 21, 2010 (AFP) – Angry Catholics forced the Philippines' "King of Comedy" to delete scenes of his latest film deemed deeply offensive to the country's dominant religion, the veteran actor said in a television interview.
Dolphy said he did not wish to pick a fight with God as his production outfit voluntarily excised the offending scenes of his "Father Jejemon" movie before it was screened by government censors.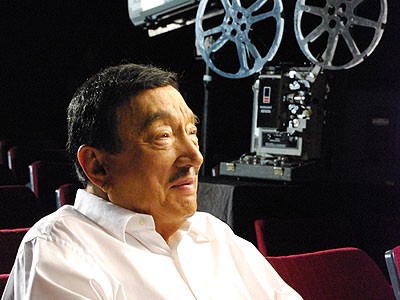 Critics, including senior Philippine church leaders, said the slapstick movie originally showed a priest accidentally dropping the host between a woman's breasts as she received communion during mass.
Another scene showed the host getting snagged in the false teeth of a communicant, they said.
"I was told I should fight for it, but I said I do not want a fight with the priests," Dolphy, who plays the title role in the film, told GMA television in a taped interview aired Monday night.
"This will probably be my last movie. My Creator is about to come for me. Why should I want to pick a fight with God," said the 82 year-old comedy king, whose real name is Rodolfo Quizon.
The version approved by censors is set to be screened at Manila cinemas during the annual festival of local films after Christmas.
Retired bishop Angel Lagdameo, a former head of the Catholic Bishops Conference of the Philippines, has urged the 80 percent of the Philippine population who are Catholics to speak up against the film.
"They are negative," he said of the offending scenes in comments published on the Catholic bishops' website, at cbcponline.net.
"The movie does not give a good reflection on the priesthood," Lagdameo added.
The controversial film has also become the subject of an SMS viral campaign believed launched by Catholic adherents.
"Let's not allow the 'King of Comedy' to make a comedy of the 'King of Kings,'" read one text message.
Dolphy has starred in more than 200 Philippine movies in a long film career that began in 1953.