MANILA -Even as he was to accept the highest award given to a private citizen from no less than President Benigno S. Aquino III, comedian Dolphy couldn't help but put everybody in stitches in Malacanang Monday.
The 82-year-old Dolphy feigned falling when the President was putting the Grand Collar (Maringal na Kuwintas of the Order of the Golden Heart) on him that elicited the familiar laughter from guests including members of the Quizon family.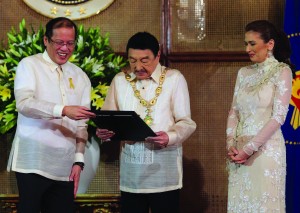 "I will treasure this award… until my memorial park," Dolphy said in his short acceptance remark which drew another round of laughter.
The President conferred the award for Dolphy's distinguished career in show business and high standards during his more than 60 years in the entertainment industry.
The award also recognized his charity works and other philanthropic projects under the Dolphy Aid Para sa Pinoy Foundation that gives scholarships to deserving children of overseas Filipino workers.
The Order of the Golden Heart was established in 1954 by the late President Ramon Magsaysay to recognize individuals who had rendered distinguished services or material aid to improve the condition of the masses.
The last person to receive the Grand Collar award on May 20, 1955 was Helen Keller, who, despite losing her hearing and vision at the tender age of 19 months, overcame overwhelming odds and grew into a highly intelligent and sensitive woman who wrote, spoke, and dedicated a lifetime work to help the less fortunate particularly the deaf-blind persons in several countries including the Philippines. (PNA)