MANILA, Nov 9 (Mabuhay) – President Benigno Aquino III conferred the Grand Collar of the Order of the Golden Heart on actor-comedian Rodolfo "Dolphy" Vera Quizon at the Rizal Ceremonial Hall in Malacanang on Monday.
The honor is in recognition of the 83-year-old actor's contributions to the country's entertainment industry as its King of Comedy.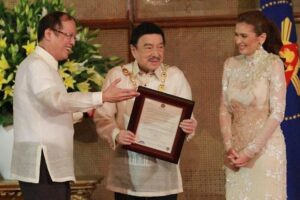 It also acknowledges his charitable works such as providing scholarships to deserving children of migrant workers.
Dolphy, who campaigned for defeated presidential contender Sen. Manny Villar in the May elections, thanked the President for the recognition.
"Maagang aginaldo ito para sa akin, salamat President Noy…Dadalhin ko ito hanggang sa aking memorial park. (Laughs)," said Dolphy.
With the recognition, Dolphy is said to be one step closer to becoming one of the country's National Artists. Some politicians and other artists have long been lobbying for his inclusion on the list.
The Order of the Golden Heart was established in 1954 by the late President Ramon Magsaysay.
It is given to those who have rendered distinguished services or those who have given noteworthy monetary or other material aid for the improvement of the moral, social, and economic conditions of the Filipino masses. (MNS)