By Rod Mijares
LAS VEGAS, Feb. 19, 2011 – "If you build it, they will come," goes a line from the movie, "Field of Dreams". Now, fast-forward to Nonito Donaire's statement last year:
"Anyone. Â I'm just here waiting. Â I'm a fighter. Â I'm just waiting for my next opponent," said the Filipino Flash when asked what the future holds for his boxing career. Donaire then was contemplating moving up to bantam division and had his eyes trained on Vic Darchinyan or Fernando Montiel.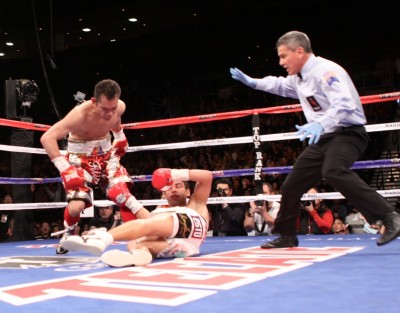 Tonight his future was finally written.  Donaire (26-1-0, 18KO) shocked the boxing world with a second round TKO win over one of the best Mexican prizefighters Fernando Montiel (44-3-2, 34KO) at the Mandalay Bay & Resort Hotel and Casino, in this city.
With the victory the Filipino Flash earned $350,000, and wrested the WBC and WBO championship belts from the Mexican. This was the fight he has been waiting for, the fight that would make or break him. Â Tonight, the waiting was all worth it because of the compelling fashion he brought the ring savvy Montiel to submission.
The first round was relatively uneventful, with both fighters feeling each other's moves. Â Nonito, on few occasions, tagged Montiel a couple of times with a left uppercut, a left hook and a few combinations.
But in the second round, Donaire started finding his target even as Montiel still looked stiff and tentative. So when Montiel threw a right that missed, Donaire countered with a vicious left hook that hit Montiel's head.
Montiel went down flat on his back in the second round with his legs fluttering as if in a fit of seizure. The Mexican was able to beat the count somehow, but when the referee allowed the fight to continue, Donaire came surging in with another left-right combo which served as the coup de grace for the match. Referee Russell Mora decided he had seen enough, so he stopped the fight at exactly 2 minutes 25 seconds into the second round.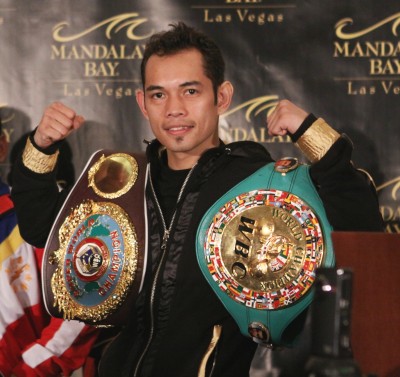 "When I hit him with left hook he started twitching. I knew (at that point) that the fight was over," Donaire said during the post-fight press briefing.
It was Donaire's 25th consecutive victory in his professional career as against one loss. His only only ring setback was when he lost on a close UD to American Rosendo Sanchez in 2001 in a five-round bout in Vallejo, California. Sanchez would retire one fight later and Nonito would not get the opportunity to avenge his defeat.
In the undercard featuring Filipino Mark Jason Melligen against Mexican Gabriel "El Rey" Martinez , the Filipino won in dominating fashion by way of a unanimous decision. Melligen (21-2-0, 14KO) carried the fight throughout and scored almost all rounds that the three judges gave him a score of 99-91, 99-91 and 98-92 for a unanimous decision.
Tony Martin, the British born trainer of Melligen defined this fight as a door that will open greater opportunities for Melligen. However, Martin half-heartedly said after the fight, that Mark could have done better.
"He had the chance to finish Martinez (27-2-1, 14KO) in the 7th round but opted to hold off once again." Â Edito Villamor, Mark's Filipino trainer and his corner man at the fight also commented that Melligen needs to be more aggressive in his future fight to win more fans to his side and be considered for megabuck fights.
Although, Melligen is a year older than Martinez he has lesser experience having only fought 22 fights as compared to Martinez' 29 fights or only 117 rounds fought as compared to Martinez' 147 rounds fought before their fight. Â In spite of this, Melligen showed he was a better skilled boxer and hungrier to win. Â When I pointed this out to Melligen's trainer, "Yet, Melligen put Martinez to school," Martin said.
Melligen is coming out of a 3rd-round TKO win over Mexican Bladimir Hernandez at the Cebu City Waterfront Hotel & Casino in the Philippines where he fought aggressively and wowed the crowd with his boxing skills, defensive tactics and down to earth appreciation of the boxing fans.
Told that people thought he could have KOed Martinez, Melligen responded, "Kuya, magalaw din siya. (The guy is also elusive). Although, I tried to knock him out, I confessed he was also tough, Â though his punches did not hurt me. Â It's the head butt that hurt me and it happened I think in the second round."
What's next for Melligen? Martin, said he is hoping for a fight between Melligen and Alfredo Gomez (22-4-2, 11KO)Â on May 6, 2011, the day before Pacquiao-Mosley's mega fight. Â Gomez will be fighting the veteran Jose Luis Castillo (62-10-1, 53KO)Â on March 13, 2011Â at the Cowboys stadium in Arlington, Texas for the WBC Continental Americas welterweight title and Martin is hoping that Gomez will accept a fight with Melligen two months after.