ANAHEIM, December 3, 2010 (AFP) – Filipino bantamweight star Nonito Donaire will try to stay on course for the February 19 showdown with world champion Fernando Montiel at the Mandalay Bay Resort in Las Vegas.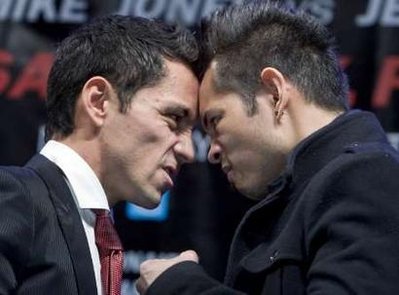 Former world flyweight champion Donaire, on a 24-fight win streak over nine-and-a-half years, has said, "I want to make a statement of who Nonito Donaire really is. This is finally the chance I have been looking for" before knocking out Ukranian Wladimiro Sidorenko last December 4 to earn the right to face World Boxing Council champion Montiel. Donaire stopped Sidorenko in the fourth round to set up the world title showdown with the Mexico champion who sports a 43-2-2 with 33 knockouts win-loss card.
Sidorenko was knocked to the canvas twice in the first three rounds and took a hard right to the nose in the fourth that prompted him to take a knee on the canvas. Referee Marcos Rosales halted the bout after 1:48 of the fourth round.
"I wanted to make a statement in that fight and I did," Donaire said.
"When I have Montiel in my sight, as my target, I feel totally motivated. I have no fear," Donaire has said. "They are going to see a different guy going in there. I'm motivated with Montiel on the horizon. This is where I want to be."
Montiel's last fight was also a statement on his part after decking Jovanny Soto in the second of the 10-round scheduled fight in Mexico. In his last six fights, no opponent has reached past the fourth round.