By Christopher Lloyd Caliwan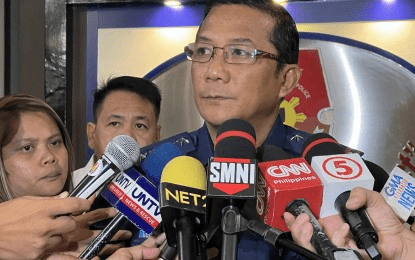 MANILA – The Philippine National Police (PNP) on Tuesday reminded vloggers and content creators to refrain from making crime pranks and exercise prudence in creating videos uploaded on social media.
PNP chief Gen. Benjamin Acorda Jr. remarked the police force has taken into custody three individuals identified as Mark San Rafael, Mark Lester San Rafael and Eleazar Steven Fuentes on Aug. 1 after they were ordered arrested by the Las Piñas Metropolitan Trial Court Branch 124 on charges of alarm and scandal.
"The PNP remains steadfast in upholding the law and ensuring that individuals are held accountable for their deeds. Pranks that induce panic and disrupt public order cannot be taken lightly. We commend our personnel for their swift action in this instance," Acorda said in a statement.
Acorda said the PNP's decisive action in this case unequivocally underscores its unwavering commitment to preserving public safety and order in the digital age.
The case stemmed from a kidnapping prank on April 6 staged by the suspects behind the page "Tukomi Blog" which triggered widespread public outrage.
The video depicted a sophisticated fake kidnapping episode that transpired along Saging Street, Phase 2, Brgy. CAA Phase II in Las Piñas City.
A police officer identified as Staff Sgt. Ronnie Conmingo witnessed the incident and drew his handgun on the vloggers, thinking it was a real kidnapping incident.
Conmingo then filed a complaint for alarm and scandal before the suspects before the Office of the City Prosecutor on April 11.
However, the accused were released on Aug. 2 after posting bail.
An arraignment of the accused is set on Aug. 10 at 2 p.m. (PNA)