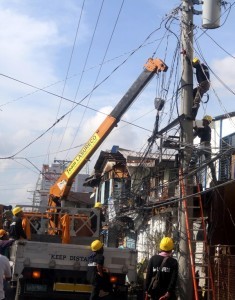 Palo, Leyte  (Mabuhay) – Department of Public Works and Highways (DPWH) Secretary Rogelio Singson vowed to fight against misuse of funds intended for reconstruction activities in typhoon-stricken areas.
In a meeting Thursday with 16 regional directors, typhoon-affected DPWH employees and maintenance personnel who assisted in disaster response, Singson said that he will not forgive officials who will attempt to misuse rehabilitation funds.
"Our fight against corruption will continue. We will make sure that budget will be used to rebuild areas destoyed by 'Yolanda' and should not fall into wrong hands," Singson said.
"I'm warning those who will take advantage in this task that we will not forgive you whether you are a congressman, regional director or division chief."
He said he had a meeting this week with rehabilitation czar former Senator Panfilo Lacson to discuss measures to ensure that reconstruction efforts will not be tainted with corruption, more so that these funds have been entrusted to the Philippine government by donor countries.
The government aims to substantially complete the recovery efforts by June 2016 or before the end of President Benigno S. Aquino III's term. It is expected to rebuild the lives of about 16 million people in central Philippines.
Singson led the distribution of initial assistance to storm-affected DPWH employees in the region. Those whose houses were totally washed away received P5,000 each. Workers with partially damaged houses got P2,500 each.
The DPWH chief vowed to give more assistance to displaced employees in the region on top of the early release of 13th month pay, productivity enhancement incentive and collective negotiation incentive.
The department also provided P1,500 each for the more than 1,000 maintenance personnel from different regions who took part in debris clearing and emergency infrastructure repair.
"The different disasters that hit our country this year is a defining moment to DPWH that we are a new department. We were perceived as a corrupt agency but now people can depend on us during calamities," Singson said.
DPWH Regional Director Rolando Asis thanked their central office and other regional offices for responding to the needs of the region after the catastrophe.
"After the typhoon, our regional office had only eight dump trucks, a back hoe and a pay loader to do the daunting task. You came in to help us and we're able to make roads passable and clear road sides from debris. Thank you for your help," Asis said.
The DPWH regional office was able to clear the road from the city's airport to Coca Cola junction a day after the typhoon. The field office started to receive augmentation force Sunday night as transportation and communications system were shutdown by the storm's fury. (MNS)