By Jose Cielito Reganit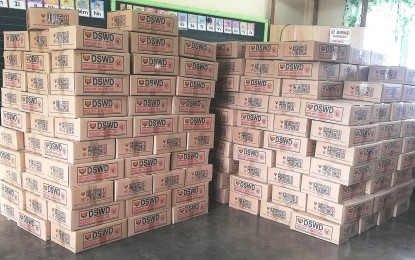 MANILA – Department of Social Welfare and Development (DSWD) Secretary Rex Gatchalian on Thursday instructed the regional directors of Field Offices 2 (Cagayan Valley), Bicol and 4-A (Calabarzon) to make an inventory of their relief goods in preparation for Tropical Depression (TD) Goring.
"Please ensure preparedness on your respective AOR (areas of responsibility) in view of TD Goring," Gatchalian told concerned regional offices through the Disaster Response and Management Group (DRMG).
In its 11 a.m. advisory Thursday, the weather bureau said the center of Goring was estimated at 355 kilometers east northeast of Calayaan, Cagayan or 300 kilometers east of Basco, Batanes, packing 55 kilometers per hour winds and 70 kph gusts.
The Philippine Atmospheric, Geophysical and Astronomical Services Administration (PAGASA) warned that considering the proximity of the tropical cyclone to land, "any westward shift in the track forecast may result in heavy rainfall over portions of Cagayan Valley in the next three days."
DRMG Assistant Secretary Marlon Alagao specifically alerted Regional Directors Norman Laurio (FO-5 Bicol) and Lucia Alan (FO-2 Cagayan Valley) to check on their respective stockpile of family food packs (FFPs) to ensure ample supply for families and individuals who will be affected by TD Goring.
Laurio assured Alagao that his field office has an ample stockpile of FFPs and can immediately respond, including those who might be affected in Catanduanes province.
Alan also assured the DRMG official that her field office has already prepositioned relief goods in Batanes province and in the island municipality of Calayan, which is part of Aparri, Cagayan.
"Make sure also to identify the nearby locations for possible inter-operability in the delivery of food packs should the need arises," Alagao told the concerned regional directors.
Current PAGASA forecast scenario shows that hoisting of Tropical Cyclone Wind Signals over areas in Northern Luzon may begin Thursday night or Friday in anticipation of the onset of tropical cyclone severe winds. (PNA)