By Zaldy De Layola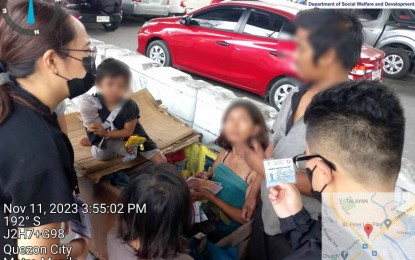 MANILA – A family of four living in a wooden "kariton" (pushcart) and surviving on alms and dole-outs from passersby in Quezon City is now under the care of the Department of Social Welfare and Development (DSWD), an official of the agency said Monday.
Assistant Secretary Romel Lopez said the DSWD's Oplan Pag-Abot profiled the family members before they were brought to the Jose Fabella Center, one of the DSWD-run Centers and Residential Care Facilities (CRCF).
He said the CRCF will serve as their temporary shelter while the DSWD is assessing appropriate interventions to be extended to the family.
Lopez said it all started when TV5 happened to interview the head of the family on Nov. 10.
Upon learning of the situation, DSWD Secretary Rex Gatchalian immediately sent a team from Oplan Pag-Abot to reach out to the family in a street situation.
Based on the TV interview, the father, Juan (not his real name), is willing to work if given the opportunity so he can provide food for his two children. His wife, Juana (also not her real name) is five months pregnant.
The DSWD's Oplan Pag-Abot social workers confirmed from Juan that a woman who was visiting the Santo Domingo Church in Quezon City was kind enough to give the family PHP1,200 as transportation fare going to Baguio City.
Sometime in June this year, the family managed to go to Baguio City and proceeded to the house of his uncle. Unfortunately, Juan's uncle refused to give them shelter in his house.
The common-law partners and their children were left with only PHP500 which forced them to beg for alms from passengers in the bus terminal in Baguio City and when they had enough money for their bus fare, they returned to Metro Manila.
The family has been living off begging along Araneta Avenue in Quezon City under the Skyway which protects them from the sun and rain.
"Mag-one month na po sila dito sa area (They've been in the area for almost a month)," the Pag-abot team reported to the DSWD chief.
The father wants his two children to go to school so they can have a formal education. His four-year-old daughter's right arm is currently in a plaster cast after she fell from their kariton which serves as their street shelter.
"Habang nasa CRCF, ongoing po ang assessment sa family para maibigay ang kinakailangang tulong at suporta (While at the CRCF, there is an ongoing assessment of the family to give them appropriate assistance and other supports they need)," the Pag-Abot team said. (PNA)