By Zaldy De Layola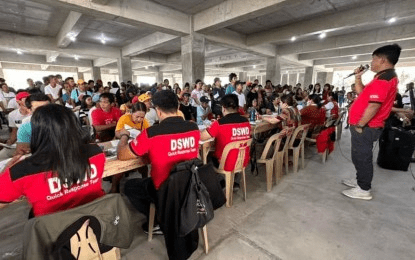 MANILA – The Department of Social Welfare and Development (DSWD) on Monday said it has released PHP12.86 million cash assistance through Bagong Pilipinas Serbisyo Fair (BPSF) caravan of the Marcos administration to help the beneficiaries of the Assistance to Individuals in Crisis Situation (AICS) in Bukidnon.
The DSWD also distributed a total of PHP1.305 million worth of livelihood assistance to three Sustainable Livelihood Program Associations (SLPAs) composed of 87 members and 8,705 family food packs (FFPs) worth PHP6.268 million to families in need.
The department distributed the cash and livelihood assistance to the qualified beneficiaries at the Bukidnon State University, Malaybalay, Bukidnon last Saturday and Monday.
Some 6,531 AICS beneficiaries received cash assistance for hospitalization, medical, burial and medicine support, among others.
"The Department continues to participate in the BPSF caravan in support to the objectives of the Marcos administration," DSWD Assistant Secretary for Strategic Communications Romel Lopez said.
According to the Office of House Speaker Ferdinand Martin Romualdez, a major partner in the Serbisyo Caravan, this program is a realization of the dream of President Ferdinand R. Marcos Jr. to bring the government's services closer to the public.
The two-day caravan was organized by the Office of the President and the House of Representatives, in partnership with other national government agencies.
The activity was the 7th Serbisyo Fair conducted nationwide and was the second BPSF caravan held in Mindanao.
Aid for media members in distress
Lopez said Secretary Rex Gatchalian has made a directive to assist media members in distress.
"In line with President Ferdinand R. Marcos Jr's directive to assist media workers, the DSWD established a media welfare program to aid media professionals and their immediate families in times of crisis," Lopez said as he represented Gatchalian during the 71st anniversary celebration of the National Press Club (NPC) on Nov. 10.
Aside from Gatchalian, DSWD Undersecretary for Innovations Edu Punay and Project Development Officer Paul Ang also received awards from the NPC.
To date, a total of 1,636 media professionals and their families have received assistance from the DSWD amounting to PHP44.8 million.
National Press Club President Lydia Bueno lauded the DSWD as a partner in protecting the welfare of the members of the Fourth Estate.
The Presidential Task Force on Media Security led by Executive Director Undersecretary Paul Gutierrez, also thanked the DSWD for its prompt response in the case of slain radio host Juan Jumalon in Misamis Occidental. (PNA)