By Zaldy De Layola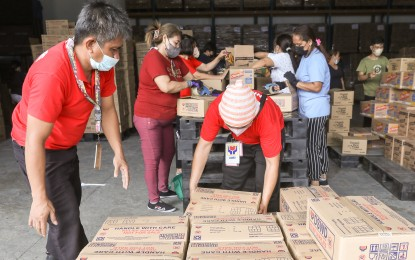 MANILA – Department of Social Welfare and Development (DSWD) Secretary Rex Gatchalian on Thursday assured that the agency is looking into the necessary changes needed to improve all matters related to the condition of the warehouse operated by the DSWD Field Office-National Capital Region (FO-NCR).
This after the Commission on Audit (COA) reported that the DSWD NCR piling system for relief goods was not observed in the storage facility, posing risk of spoilage and damage to goods, which would lead to financial losses for the government.
Upon the receipt of the report, Gatchalian immediately ordered FO-NCR Director Michael Joseph Lorico to inspect the warehouse and check the condition of the relief goods stored inside, DSWD Assistant Secretary Romel Lopez said.
Aside from the immediate inspection, Lopez said the DSWD chief also ordered to sort out all relief supplies to ensure that no outdated items will be distributed to areas that will be hit by disaster or calamities.
"The words 'state of disrepair' and 'lack of cleanliness and organization' are not acceptable to the DSWD's manual of housing relief items in any of our warehouses or facilities," he said.
"Rest assured that the DSWD management is already looking into this concern to fast-track and apply the necessary changes to improve the stockpiling, cleanliness, and condition of the NCR warehouse," Lopez said.
The National Resource Operations Center, the main disaster hub of the DSWD in Pasay City, is the command center and national warehouse of the DSWD where disaster operations are monitored, and relief goods are stored and re-packed.
Lopez said the DSWD will also take into consideration the regular pest control and repairs to improve the condition of the storage facility, which is operated and managed by FO-NCR.
While the NCR warehouse is undergoing repairs, Lopez assured the public that the DSWD has sufficient relief goods, both food and non-food items, to respond to families affected by Typhoon Jenny.
"At present, the Department has more than PHP1.8 billion in stockpile and standby funds ready for relief distribution to areas that will be affected by Typhoon Jenny. So, our kababayans (countrymen) need not worry because the government is prepared," he said. (PNA)