By Joyce Ann L. Rocamora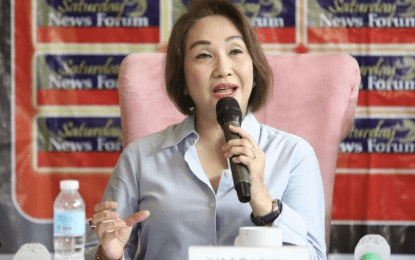 MANILA – The suspension of the "pass-through fees" for vehicles transporting goods will benefit manufacturers and consumers, the Department of Trade and Industry (DTI) said Saturday.
At a news forum in Quezon City, DTI Undersecretary Kim Lokin said the move would lower the logistical costs of businesses and eventually reduce the price of goods.
On Sept. 25, President Ferdinand R. Marcos Jr. issued Executive Order 41, directing local government units (LGUs) to suspend the collection of "pass-through fees" to ensure the efficient movement of goods across regions.
"So, this EO 41 will directly address the plight and the sentiments of the consumers right now which is to try to help in lowering the cost so that at the end of the day when the product reaches them, goods and even services, it's cheaper," Lokin said.
The Alliance of Concerned Truck Owners and Organization (ACTOO) said the order was a welcome development as she noted that the distribution of goods concerns the national economy.
"This is not just about traffic in one municipality or road use in one province, but rather it would have an implication on the entire nation," ACTOO vice president Rina Papa said.
In crafting the implementing rules and regulation of the EO, she hoped roads leading to businesses centers, manufacturing sites, and warehouses will also be covered.
"I think with this EO, the local government units would be able to take into consideration the general impact of imposing taxes, levies, permits, et cetera even under local roads because our views should not be parochial," she said.
Papa said pass-through fees vary from one LGU to another. Prior to the EO, she said Manila imposed road user's taxes that costs a trucker around PHP2,000 to PHP2,500 a month.
Other LGUs, on the other hand, collect fees on annual basis for as low as PHP675.
Papa bared that some provinces would even sell stickers or solicit paint from trucks when they pass through the checkpoints.
"Hindi po talaga namin naiintindihan bakit ganoon ang treatment sa truckers (I don't understand why truckers get that kind of treatment). As I have said, I think the EO would open-up and enlighten various local government units and other sectors as to the importance of the truckers in terms of the national economy," she said.
Meanwhile, Lokin said Manila was the first LGU to comply with the order after issuing on Sept. 29 a notice that suspended the collection of its pass-through fees.
Lokin said the notice came out even before the guidelines for the implementation has yet to be issued and hoped that LGUs will soon follow.
"Kung ang city of Manila po kung saan nanggagaling iyong port at nandodoon ang karamihan ng mga trucks na dumadaan araw-araw ay makakapag-isyu po ng ganitong bagay ay sana po iyong iba rin po nating mga LGUs would follow suit (If the city of Manila where most ports are located and majority of the trucks pass through can issue an order like that, then we hope other LGUs would follow suit)," she added.
EO 41, which was made public on Friday, takes effect immediately following its publication in the Official Gazette or a newspaper of general circulation. (PNA)