By Wilnard Bacelonia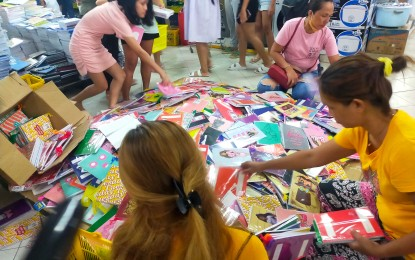 MANILA – A senator has asked Tuesday the Department of Trade and Industry (DTI) to ramp up surprise inspections on school supply vendors deviating from its month-old price guide.
Senator Imee Marcos said on Tuesday that the DTI must watch out for vendors who will be taking advantage of the first week of classes when students and teachers are rushing to complete their school supplies and have no time to haggle.
"Iniisnab ng mga tindera ang price guide ng (Vendors are ignoring the price guide of) DTI," Marcos observed, referring to the agency's "Gabay sa Pamimili ng School Supplies sa 2023" (Guide to Buying School Supplies in 2023).
The senator's office conducted random price monitoring in some Metro Manila markets over the long weekend, which showed that basic notebooks cost PHP23 to PHP60 each, or up to PHP8 more than the DTI price guide range of PHP23 to PHP52.
Pad paper was also cheaper in DTI's price guide at PHP20 to PHP28, but cost as much as PHP35, particularly in Caloocan and Rizal markets.
Crayons in various quantities cost PHP30 to PHP100 per box, while DTI's price guide listed them at PHP24 to PHP69 only.
However, assorted pencils and ballpens were cheaper at PHP7 to PHP11, compared to DTI's listing of PHP11 to PHP17.
The price monitoring also found out that regular notebooks in Manila's Divisoria commercial center previously priced at PHP180 to PHP200 per ream now cost PHP250, while spiral notebooks that used to cost PHP180 to PHP220 per ream now sell for as high as PHP300.
Marcos lauded DTI for conducting surprise inspections in Divisoria and other markets the past two weeks but said that as soon as inspections are over, prices were being marked up again.
"Ilang magulang ang mismo nang nagsabi na wala rin sila magawa kahit ipamukha sa mga tindera ang price guide ng DTI (Some parents themselves have said that they couldn't do anything even if they confront vendors with DTI's price guide)," the lawmaker said. (PNA)