By Ruth Abbey Gita-Carlos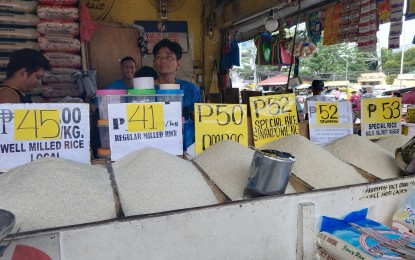 MANILA – The economic team of President Ferdinand R. Marcos Jr. is expected to present "better" options to address the increase in the prices of rice in the local markets, Socioeconomic Planning Secretary Arsenio Balisacan said Thursday.
In a Palace briefing, Balisacan said mandatory price ceilings on rice are merely "temporary" and should be lifted, once the government already meets its objective.
"So as soon as we can see a better option of addressing that (rising prices of rice) and we have already achieved the objective, it (implementation of mandated price caps) should be lifted," said Balisacan, who is also National Economic and Development Authority director general.
"We have a meeting soon on that where we will present the options. The issue is, basically, that world prices of rice are rising and have risen quite sharply in recent months. And so the question is: Do we allow those high prices to be reflected in our local markets, particularly for our consumers? What do we need to do to ensure that we can protect our consumers so that we can still be rice-secured even as world prices are rising? So there are options to achieve that objective," he added.
Balisacan said the government is not far from achieving its objective, adding that the meeting will be held soon to recommend other options to help reduce the prices of rice.
One of the options, he said, is the temporary reduction of rice import tariffs "when the world prices are rising sharply."
He said the proposal has not been discussed yet "at the level of the President or even at the level of the committee."
He clarified that the economic managers do not want to reduce the tariffs, if the world prices "are not rising."
"And reducing the tariff temporarily would be such an option but in doing so the exercise that we will do is to ensure that farmers are protected, they are not going to be worse off. That is the objective — nobody should be the worst off," Balisacan said.
"The only worst off here will be the government because there will be less revenue from the tariffs. But you know, what is a few billions of losses compared to greater suffering of our population from high prices? We don't want that," he added.
Marcos earlier issued Executive Order (EO) 39, approving the recommendation of the Department of Trade and Industry and the Department of Agriculture to impose the mandated price ceilings on regular and well-milled rice.
Under EO 39 which took effect on Sept. 5, the mandated price ceiling on regular milled rice is PHP41 per kilogram while the mandated price cap on well-milled rice is PHP45 per kilogram. (PNA)