By Jean Malanum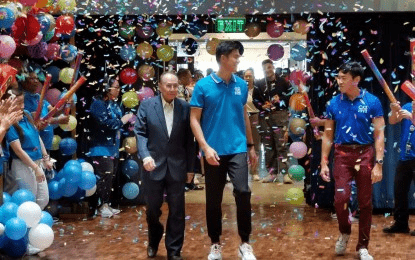 MANILA – World No. 2 pole vaulter Ernest John "EJ" Obiena on Friday got a hero's welcome and much-needed financial support from the Chiang Kai Shek College (CKSC) where he studied from prep to high school.
"I'm blessed to call this my home," the 27-year-old athlete said during a homecoming ceremony at the school's auditorium a few days after winning the country's first gold medal at the 19th Asian Games.
The World Championships silver medalist cleared the bar at 5.75 meters, shattering the 5.7m set by Japan's Seito Yamamoto, before leaping to 5.9m at the Hangzhou Olympic Sports Center Stadium.
The ceremony ended with Obiena being rewarded a total of PHP10 million in cash incentives coming from the CKSC Board of Trustees headed by Johnson Tan (PHP3 million), CKSC alumnus Carlos Chan of Oishi (PHP1 million), Quanzhou Philippines Association president Anson Tan (PHP1 million), and the Federation of Filipino-Chinese Chamber of Commerce, Inc. (PHP5 million).
"We are prepared to support him for his training and participation for the Paris Olympics in 10 months' time," Johnson Tan said.
"You have carried the national flag with pride, honor and respect. Your alma mater is always behind you," CKSC president Dr. Judelio Yap added.
Obiena, the only Asian man to have jumped 6m, will also get PHP2 million from the Philippine Sports Commission and PHP1 million from the Philippine Olympic Committee.
He will join five tournaments — two indoor and three outdoor — before heading to the 2024 Paris Olympics.
He will also attend training camps to prepare for his second trip to the Olympics after Tokyo.
"The plan is to get better," the 6-foot-1 Obiena said.
He will return to Italy on Oct.15 and resume his training with Ukrainian Vitaly Petrov, who has been coaching him since 2014.
Obiena collected his third consecutive gold medal at the Cambodia Southeast Asian Games with a record 5.65m in May. Two months later, he retained the Asian Championships title with a record 5.91m in Thailand, erasing the 5.71m he registered in Doha, Qatar in 2019. (PNA)