By Leonel Abasola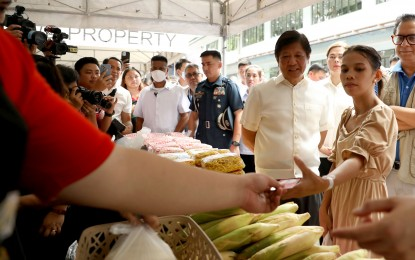 MANILA – Malacañang has issued Executive Order (EO) No. 44 establishing the "Walang Gutom 2027: Food Stamp Program" as a flagship program of the national government through the Department of Social Welfare and Development (DSWD).
"The 'Walang Gutom 2027: Food Stamp Program' of the DSWD is hereby declared as a Flagship Program of the National Government. The DSWD, as the primary government entity responsible for the implementation and management of social welfare development programs in the country, shall be the lead implementing agency of the Food Stamp Program," read the EO, signed by Executive Secretary Lucas Bersamin on Thursday.
"The DSWD shall undertake the necessary steps for the successful implementation and expansion of the Food Stamp Program including, but not limited to, the identification of eligible beneficiaries and collaboration with relevant stakeholders to ensure efficient and timely distribution and use of food stamps."
The DSWD was also mandated by the order to work with other national government agencies (NGAs) and local government units (LGUs) for its implementation, according to a news release of the Presidential Communications Office on Sunday.
Relevant NGAs and all participating LGUs are mandated to provide full support to, and cooperate with, the DSWD to ensure the effective implementation of the order.
The DSWD will determine the appropriate staffing pattern and corresponding qualification standards for the creation of additional positions necessary for the administration and operation of the Food Stamp Program (FSP) and submit to the budget department for review and approval.
The EO's implementing rules will be crafted by the DSWD, 30 days from its effectivity. Its implementation will be funded by DSWD's appropriations and its partner agencies.
The "Walang Gutom 2027: Food Stamp Program" is one of the major programs of the DSWD, which aims to decrease the incidence of voluntary hunger experienced by low-income households.
It provides monetary-based assistance through Electronic Benefit Transfer cards that can be used in purchasing select food commodities from eligible partner merchant stores.
Its implementation is in line with the Philippines' commitment to realize the United Nations Sustainable Development Goal No. 2 of ending hunger, achieving food security, improving nutrition, and promoting sustainable agriculture by 2030.
In addition, one of the objectives of the Philippine Development Plan 2023-2028, launched in June this year, as well as the administration's 8-Point Socioeconomic Agenda, is to ensure food security and proper nutrition in the country by providing accessible, safe and nutritious food for all Filipinos.
Fifty food-poor families in Tondo, Manila, including those who are pregnant and lactating moms, were the FSP's initial beneficiaries during the launch attended by Marcos on July 18.
A total of 3,000 families are targeted for the six-month pilot nationwide.
The DSWD will then evaluate the results and move to the scaled-up program, which aims to reach the one million families who belong to the food-poor bracket or those with a monthly income of less than PHP8,000.
"Kung maganda ang resulta (If the results are good), then we move to the scaled-up where it will be initially 300,000 families and then another 300,000 the year after until we reach the one million food-poor families," DSWD Secretary Rex Gatchalian previously said at a media forum. (PND/PNA)