By Benjamin Pulta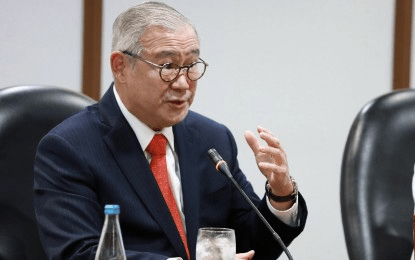 MANILA – A Muslim civic group filed on Friday before the Supreme Court (SC) a disbarment complaint against former Foreign Affairs secretary Teodoro Locsin Jr. over his controversial tweet on Palestinian children amid the conflict between Israeli troops and militant group Hamas.
"We fully understood the plain text he posted: it was grossly inappropriate language, Islamophobic hate speech," the 1Bangsa group led by Madulana Balangi said in its complaint.
"We strongly condemn and reject this hateful Islamophobic rhetoric. This bigotry must stop," the group added.
Among the statements made by Locsin on X (formerly Twitter), which has since been removed, read as "They are Muslims. They could stage mass suicide attacks…" along with a post that said, "That's why Palestinian children should be killed; they might grow up to become as gullible as innocent Palestinians".
An estimated 2,000 children have been killed in Gaza in the past half month of Israel's military operations following an attack by Hamas militants on the country during a Jewish holiday on Oct. 7.
Locsin, currently serving as the Philippine Ambassador to the United Kingdom, earlier issued a conditional apology over the tweet.
"My apologies to those who did misconstrue my sentiments and did in fact get triggered — I obviously was not advocating for the literal death of anyone, but rather simply for the end of any ideology that condones terrorism in any way, shape or form," he added.
The Department of Foreign Affairs has distanced itself from the issue, saying "such a statement was made in his strictly personal capacity". (PNA)