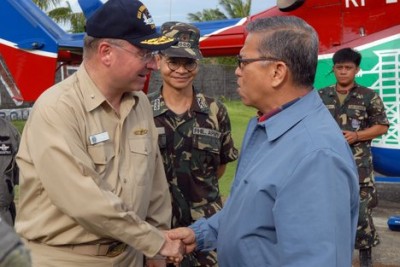 By Jason Gutierrez
MANILA, February 8, 2011 (AFP) – A former Philippine military chief committed suicide while visiting his parents' grave on Tuesday, apparently distraught after being accused of corruption, authorities and friends said.
Angelo Reyes, 65, who had also served as defense secretary and in other cabinet-level posts, died from a single bullet fired into his chest, according to police.
The national police spokesman said a definitive statement over how Reyes died would have to wait for the end of a formal probe, but investigators with direct responsibility for the case said it was suicide.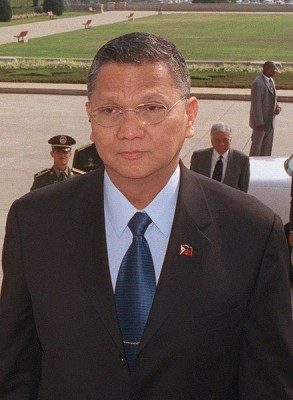 "Our initial report is that he shot himself," the head of Manila police's eastern district that has jurisdiction over the graveyard where Reyes died, Chief Superintendent Francisco Manalo, told AFP.
A caretaker at the cemetery where Reyes's parents are buried told local radio station DZBB that the ex-military chief visited the graves with his children and bodyguard on Tuesday morning.
"He asked his children and bodyguard to go ahead and wait for him in the car. A few moments later they heard a gun fire, and he was on the ground holding a handgun," said the caretaker, who was not named.
Reyes had been in the national spotlight after a former military budget officer accused him last week of siphoning off enormous amounts of money from state coffers while armed forces chief of staff in 2000 and 2001.
He denied the allegations, but was scheduled to appear before a parliamentary inquiry on Tuesday to give his version of events.
Close friend and retired Navy commodore Rex Robles told AFP that Reyes had shown signs of depression since the allegations were made, and felt lawmakers with grudges were out to humiliate him.
"They will not stop. They are many. I cannot do anything in my power to stop them. Whatever I do, they are determined to bring me down, including my family," Robles quoted Reyes as telling him recently.
The Senate inquiry was led by Jose Estrada, the son of former president Joseph Estrada who was forced to stand down as the country's leader mid-term amid a popular uprising.
Reyes, who was then the military chief, withdrew his support for Estrada at the height of the revolt, a key moment that led to the president's downfall.
Reyes was then rewarded with the defence secretary's post in the administration of Gloria Arroyo, the woman who helped engineer the uprising against Estrada and succeeded him.
Reyes also served as secretary of the environment, energy and interior ministries, as well as presidential adviser on anti-smuggling, during Arroyo's time in power, which ended last year.
Current President Benigno Aquino has repeatedly said Arroyo allowed corrupt officials to run rampant during her time as president. Arroyo has denied the allegations.
Reyes' former budget officer in the military, ex-lieutenant colonel George Rabusa, last week accused his then boss of receiving 50 million pesos ($1.1 million) in send-off money from an illegal slush fund when he retired in 2001.
Reyes also regularly received millions of pesos in unaudited monthly allowances during his term, Rabusa told a Senate inquiry into alleged military corruption.
The inquiry heard the payments to Reyes were part of systemic corruption within the military.