By Sarwell Meniano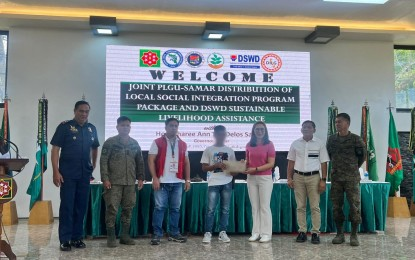 TACLOBAN CITY – The provincial government of Samar distributed on Friday PHP2.93 million in cash assistance to former rebels under its Local Social Integration Program (LSIP) package.
During the event at the headquarters of the Philippine Army's 8th Infantry Division in Catbalogan City, Governor Sharee Ann Tan said the distribution will hopefully convince more rebels to surrender.
"We have crafted these programs for your benefit as you have a special place in our hearts. In return, you must work hard as your fate also relies on how you take care of the responsibilities given to you," Tan said in the vernacular during the ceremony.
The recipients were 23 former New People's Army members, six former Militia ng Bayan members, and three former mass supporters.

For the LSIP, each former member received PHP25,000 immediate assistance, PHP50,000 livelihood assistance, and PHP25,000 per firearm surrendered.
Each former Militia ng Bayan member also got PHP10,000 in immediate assistance and PHP25,000 for every firearm surrendered.
Meanwhile, each mass supporter is entitled to financial assistance of PHP1,000.
The LSIP benefits are on top of the other assistance provided through the Enhanced Comprehensive Local Integration Program of the national government. (PNA)