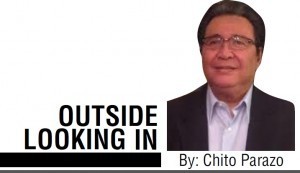 The current probe being conducted by the Senate on alleged corruption among elected public officials should be expanded to dispel public perception that the Aquino government is only after its perceived political enemies.
So far only Senators Juan Ponce Enrile, Jingoy Estrada and Bong Revilla have been charged with plunder for allegedly receiving "kickbacks" from their controversial DAP and PDAF allocations. Estrada and Revilla are under detention while Enrile is still at the Philippine National Police hospital in Camp Crame due to his medical condition.
Also being investigated in the Senate is Vice President Jojo Binay and some members of his family, including his wife and former Makati mayor Elenita Binay, son and current Makati Mayor Junjun and eldest daughter Senator Nancy Binay.
A plunder case filed against the Binay family by their political opponents in Makati prompted senators to call for a hearing. The elder Binay and his son are being investigated for allegedly receiving "kickback" from the construction of the P2.3 billion Makati carpark building.
Ernesto Mercado, former vice mayor of Makati, pointed to Binay and his son as having received "commission" from the construction of the parking building. He also claimed to have delivered part of the "kickbacks" to Mrs Binay through her daughter Nancy. He also accused senator Binay of selling her overpriced birthday cakes given by Makati City Hall to its senior citizens. He claimed the lady senator used to bake these cakes before she became a senator.
The Philippines is still perceived as one of the most corrupt countries in the world. The election of Noynoy Aquino as President in 2010 did nothing to slow down corruption in the government. Despite glaring evidence of corruption among his KKK (kaibigan, kaklase and kabarilan), and lawmaker allies, no one  has been prosecuted.
The senate inquiry should also look closely into how the other senators disbursed their DAP allocations totaling P1.107 billion in lump sum appropriations. Topping the list is Senate President Frank Drilon who got P100 million per the "sanitized" list submitted by Budget Secretary Butch Abad to lawmakers.
Abad, chief architect of DAP, admitted during a recent Senate inquiry that lawmakers received their disbursement allocations six months after they have convicted impeached Chief Justice Renato Corona.
 Opposition lawmakers are saying that Senator Drilon, a noted brown noser, got the biggest allocation from among the senators. He reportedly received close to P1 billion from  DAP. It was reported that Drilon received P450 million for the Jalaur River Purpose Project, P150 million for the Iloilo River Development Program and P100 million for the Iloilo Convention Center. All these projects were funded through his DAP allocations.
It is also worth mentioning that the construction company that built the controversial overpriced Makati carpark building (Hilmark's construction corporation) is the same company that erected the Iloilo Convention Center.
When informed about his supposed P1billion DAP fund allocations, he flatly denied it although he rejected a challenge hurled by an opposition lawmaker that he should get a funky haircut  if proven that he indeed got P1billion from his DAP funds.
Many political observers do agree that Drilon is no saint when it comes to "grease money" and is among the list or on top of the list of "pork thieves." It is no secret that Drilon's personal wealth cannot be ignored.
It was in 2012 at the height of the impeachment trial of Corona when Senator Drilon's seemingly vast unexplained wealth was put in the spotlight, because of his brazen show of bias as a senator judge.
It was revealed that a 1,542 square meter property in the expensive Forbes Park is owned by Drilon's stepdaughter, Eduarda Genuino. It was also reported that in 2004, Genuino, who is employed as an executive at Starbucks of the Tantoco Lopez family, purchased the foreclosed property for P50 million. The property is located at 17 Kawayan Road, North Forbes Park, Makati, from the Bank of Philippine Island. The original owner is listed as one Amelia Montecillo.
Genuino's widowed mother, Milagros, married Drilon in 2000 after the senator's first wife died. Drilon and his wife Milagros and all their kids reside at 49 Polk Street in Greenhills, San Juan.
The Senate Blue Ribbon Committee headed by Senator Teofisto Guingona III should look into how the stepdaughter of Drilon, a single woman with no visible means of income aside from her Starbucks job, can purchase an expensive property.
No wonder, Drilon's weight keep going up because of all the perks he enjoys through his DAP allocations.
Another government official who should be investigated is DSWD Secretary Dinky Soliman. She has no business being the head of the  DSWD. She is ruthless and heartless. Despite repeated public clamor demanding her resignation after COA reported that food packs worth P2.7 million were lost to spoilage because of improper handling, she's still in the Cabinet. The much needed food relief should have been able to feed hundreds of typhoon Yolanda victims still suffering from hunger, particularly in Tacloban city.
Soliman is also accused of not disbursing funds donated by foreign countries to typhoon victims to help them ease their suffering, particularly during the first weeks after their homes were devastated by the super typhoon. Most of these funds reportedly remain unaccounted for.
Soliman served as DSWD Secretary during President Gloria Arroyo's term. She was among those who convinced Arroyo to do the then "I'm sorry" video after the President was implicated in a presidential electoral fraud. When the public outrage did not die down after Arroyo's apology, she and other cabinet officials resigned.
As of now, more and more people are getting tired of the Aquino regime. Corruption remains pervasive in almost all branches of the government. The Police force, supposedly the savior of the people from criminal elements, are the ones perpetrating the high profile crimes like kidnapping, robbery extortion and drug trafficking.
After four years of Aquino leadership, nothing has change. People are tired. The Catholic church have recently joined the people in demanding accountability and transparency promised by Noynoy during his presidential campaign in 2010. They also chided Noynoy for reneging his promise to scrap the pork barrel funds.
It's a shame that  millions of Filipinos elected do nothing as a self-centered president in the person of Noynoy Aquino.