By Ian Thomsen
On the eve of the playoffs I'm picking the Lakers to beat Boston in the NBA Finals, though I continue to question my choice in the East – Miami may yet become the best postseason team in the conference…
Rating The Four Tiers Of Playoff Contenders
There are four levels of playoff agendas as the NBA embarks on its two-month tournament. Be aware that many of the teams may not agree with these forecasts.
1. Nothing less than a championship. At least four members of this elite group – the two-time defending champion Lakers, the defending Eastern champion Celtics, the four-time champion Spurs, the ultra-ambitious Heat and the ever-tantalizing Mavericks – will be disappointed in mid-June or earlier. The turbulent season-long journeys of the Lakers and Celtics are well known already, and their issues need not be repeated here.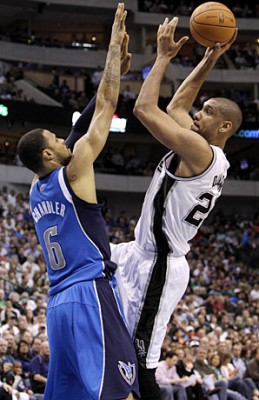 Lakers-Hornets | Celtics-Knicks
The Spurs, however, have been an overlooked contender.
"Are they good enough to win it?" asked a rival head coach involved in these playoffs.
"Probably not."
The Spurs don't engage in trash-talking replies to such skepticism, but their No. 1 record in the West relates to their stubborn insistence. They've adapted wisely to this new era's perimeter-based style of play, and their three stars are capable of doing whatever it takes. Last year during their opening-round upset of Dallas, the Spurs looked like the best team in the West. Then they went unexpectedly flat against the surprising Suns, thereby ceding the conference championship to Los Angeles.
Fil-Am, Fil-am news, Filipino News, Filipino-American, Filipinos, Manila, Philippine, philippine news, Philippines, pinoy news
But their circumstances are entirely different this time. Last year they were fighting injuries and pulled themselves together just in time to knock off the Mavs; this year they've been on top of the West to the very end, enabling them to withstand a late-season sprained ankle suffered by Tim Duncan (though more worrisome now is the hyperextended right elbow injury sustained Wednesday by Manu Ginobili). The Spurs are an unusual underdog that could lose in the second round or ride home-court advantage all the way through June, and the latter is surely their expectation.
Series Preview: Spurs vs. Grizzlies
In Miami, the Heat are peaking right on time. They're only 4-9 against the league's top five opponents and 18-19 against teams that are .500 or better, but look more closely at their closing five weeks: They finished 15-3 overall and 3-0 against the Lakers, Spurs and Celtics, beating that trio by a combined 59 points. They'll have home-court advantage against everyone in the East except for the inexperienced Bulls, and they enter the postseason with a more settled rotation than the Celtics. There isn't a team the Heat can't beat in a seven-game series.
Series Preview: Heat vs. 76ers
Some will scoff at the Mavericks' inclusion on this list, but consider the diversity of their weapons. Dirk Nowitzki is no longer simply a mismatch at the three-point line; he is now a versatile low-post threat who seeks out contact and the resulting free throws. Though the Mavs haven't defended so well lately, Tyson Chandler's leadership in the paint gives them hope of reclaiming their early-season form. Jason Kidd is a terrific three-point shooter under pressure, and the availability of Jose Barea and Rodrigue Beaubois (assuming he isn't sidelined by a foot injury) enable him to avoid defending the small, explosive point guards.
The Mavs' little displays of in-fighting recently show a feistiness that hasn't always existed in Dallas. If the Mavs can survive their opening round against Portland, they'll enter Round 2 against the Lakers with no outside pressure — they and they alone will believe they can pull off that upset, which is not a bad role to play.
Series Preview: Mavericks vs. Trail Blazers
2. Conference or NBA Finals. The Bulls, Thunder and Magic all have reason to aim for the championship. But it won't be at all fair to criticize them for falling short.
Is Derrick Rose capable of leading Chicago to the title this season? The answer is yes … but it's not reasonable to say he should, because he has never reached the second round, and his roster, as successful as it's been, is still under construction. His expedition is going to be highly interesting — to see how he adapts as the intensity and opposing defenses attempt to swarm him round by round. As well as he has played this season, we all know he can play at an even higher plane. But NBA history insists (as Michael Jordan himself can affirm) that players of Rose's exceptional talent must lose in the playoffs years before they can celebrate in the end.
Series Preview: Bulls vs. Pacers
The Thunder's Kevin Durant is in the same position. His team has been made more dangerous by the presence of center Kendrick Perkins, who has improved Oklahoma City's defense. This team looks to be as promising in its conference as the Bulls are in theirs. But no one should complain if OKC isn't able to beat the Spurs or Lakers (though it will be under pressure to prevail in the opening round against the threatening Nuggets — pressure that will be helpful for Durant's long-term development).
Series Preview: Thunder vs. Nuggets
The Magic made the Finals two years ago and are not without talent around Dwight Howard, but the team's play has yet to equal the sum of its expensive parts. It was always going to difficult to fit everyone together following its December makeover.
Series Preview: Magic vs. Hawks
3. A round or two. The Blazers, Nuggets, Hawks and Knicks are all talented underdogs capable of a first-round upset. The Mavs drew the short straw when they were matched against Portland, which has reinvented itself around the interior leadership of LaMarcus Aldridge and the tireless work of Gerald Wallace. With Andre Miller, Marcus Camby and (don't forget him) Brandon Roy, they could surely plow through the insecure Mavs.
The Nuggets can play with anyone for 43 or so minutes, but can they close out games now that Carmelo Anthony is gone? These playoffs will either define their go-to scorer, or prove the need for one.
Then there are the Hawks, who have made the second round the last two years and appeared to improve their rotation by acquiring Kirk Hinrich. Instead, they've gone 10-17 since the All-Star break and haven't shown the kind of stubborn consistency they'll need during the playoffs.
The Knicks have three stars who are still learning to play together. If they should decide to keep the ball moving to create open shots, they could make the next fortnight very uncomfortable for the Celtics.
4. A good first-round showing. The Hornets, 76ers, Grizzlies and Pacers have been awarded first-round series that appear to be unwinnable. New Orleans would not have been in this grouping if not for the disastrous injury to David West, which helped drop the Hornets into a hopeless matchup against the Lakers. The Grizzlies should be congratulated for surviving their own injury to Rudy Gay, but they're going to miss him against the Spurs. The Sixers will provide a strong test for Miami, which should help prepare the Heat for the second round, and the young Pacers — the only team with a losing record — will be provided experience by the ruthless Bulls.
A Half-Dozen Glue Guys Worth Watching
1. Luol Deng, Bulls. Chicago's small forward will guard Indiana's Danny Granger and other prolific playoff opponents, much as he has throughout his team's successful regular season. At the other end he'll keep the ball moving, attack off the dribble or spot up as a deep shooter to space the floor for Derrick Rose. Deng was a big contributor to the Bulls' 2007 run to the second round, which coincides with his last period of health as part of a strong team. Chicago wouldn't be No. 1 in the East if not for his crucial role at both ends.
2. Rajon Rondo, Celtics. His extended periods of terrific play have now created enormous expectations for Boston's young point guard. He must guide the Celtics through their attempt to reinvent themselves amid big questions at center and their newly assembled bench. If Rondo plays at his exceptional triple-double level — which is asking a lot of any star — his Celtics can position themselves to win the championship. But if he is unable to pull this team together, then it's hard to see who else can.
3. Gerald Wallace, Blazers. After arriving in February, he gave Portland energy and hope. It's amazing how quickly coach Nate McMillan reinvented his team away from Brandon Roy (dangerous though he remains) to maximize the edgy play of Wallace and LaMarcus Aldridge. If Wallace is settling for threes, you'll know Portland is in trouble. But if he is driving incessantly to the hole and scrambling the game defensively, the Mavs may be set back on their heels.
4. Kendrick Perkins, Thunder. Notice how Boston has been in a funk without its former starting center (and also without Shaq, to be fair)? Perkins' arrival in Oklahoma City has been just as noticeable. The Thunder's defense is tighter and more vocal, and Serge Ibaka has been able to play his natural role as a shot-blocking power forward alongside Perkins. Now the question is whether the Thunder's defense can coalesce around Perkins quickly enough to challenge the Spurs and Lakers.
5. George Karl, Nuggets. He's a seat-of-the-pants coach who, after Carmelo Anthony's departure, transformed his team of complementary players into a dynamic, open-court monster. The absence of a star means the Nuggets will rely on Karl's ability to assemble winning combinations and create energy. He appears to love their underdog role.
6. LeBron James, Heat. To prevail against the team defenses of Boston and Chicago, James must keep the ball moving to find the open shooter. He and Dwyane Wade have suffered a number of high-turnover games against the Celtics and Bulls. Can they find the right blend between creating for themselves as well as for others? As well as Miami has played this year, it has the potential to reach a higher level of teamwork — which opponents hope won't be discovered until next season at the earliest.
The Advisor
The questions are fabricated, my answers are for real.
"Does anyone really think I'm going to bail on New Orleans so I can play in Charlotte?"
– C.P., New Orleans
Chris Paul, you were obviously being gracious when you discussed Michael Jordan's Bobcats as a potential free-agent landing spot for you in 2012. First of all, it's universally understood that if you were to leave the Hornets, you would be looking to join a championship contender — and the Bobcats are not that. In fact, they are further from contention than your Hornets.
Here's the other part: Jordan's charisma and background will take his franchise only so far. Look at it this way: When Jordan was an ambitious star in his 20s, would he have been interested in playing for a franchise like the Bobcats as they exist today? Of course he wouldn't, and the personality of the owner would have no influence on his bottom-line point of view. The Bobcats' standing may change considerably under the rules of the next CBA, and if Jordan's franchise emerges as a contender, Charlotte may yet become a destination for someone like Paul. But right now the only attraction for a superstar to come to Charlotte is the allure of Michael Jordan, and that is not enough.
All of this doesn't mean you're looking past this postseason to 2012. Anyone who watches you play knows you'll be focused entirely on the playoffs, because the last thing you want is to be embarrassed against your friend Kobe Bryant and his Lakers.
"I get injured in the 82nd game. Do I take this as a bad sign?"
– M.G., San Antonio
Manu Ginobili, you were diagnosed, fortunately, with a sprained right elbow. Had you suffered a torn ligament, you would have been in trouble. As it is, you are listed as doubtful for Game 1 of your opening series against Memphis.
The Grizzlies are no easy opponent: They won 46 games despite a midseason injury to Rudy Gay, and they pound the ball inside to Zach Randolph like a power 1990s-styled team.
I have a feeling you're going to return early in the series. At the same time, your Spurs are going to lose one of the first two games, as you often seem to do in the opening round. It sets off panicky alarms around the league, but it also settles your team down. Have faith that you're going to win this series in five or six games … as for the second round, however, I'm not so sure.
"How do I make my team believe?"
– D.N., Dallas
Dirk Nowitzki, your Mavericks have had little other than bad playoff experiences since you surrendered the 2-0 lead to Miami in the 2006 NBA Finals. The irony is that you've become a more fiery leader since then, and a more playoff-ready scorer thanks to your rugged improvement in the post. You've always been known as a non-traditional star — a big man who bombs from the perimeter — but now may be the time to show your traditional skills on the block: Control the tempo, get your team into the bonus, make your free throws and relieve your teammates of the pressure to win or lose based on their jump shots. It will be yet another interesting change of pace from you.
The List
Top playoff upsets. These are (in my opinion) the most notable results since 2003, when the NBA went to its current format of seven-game series throughout the postseason.
1. Golden State 4-2 over Dallas, 2007 first round: The worst of all matchups for the top-seeded Mavs, and the defining triumph for Baron Davis.
2. Detroit 4-1 over Los Angeles Lakers, 2004 NBA Finals: The exception to the rule as thePistons become the only champion since the Magic/Bird era to lack a Hall of Fame scorer.
3. Miami 4-2 over Dallas, 2006 NBA Finals: Dwyane Wade's coming-out — the Heat had been within minutes of trailing 3-0 before he seized four straight victories.
4. Orlando 4-2 over Cleveland, 2009 conference finals: In the absence of All-Star point guard Jameer Nelson, Hedo Turkoglu created mismatches to overcome LeBron's 38.5 points per game.
5. Cleveland 4-2 over Detroit, 2007 conference finals: LeBron's memorable 25 straight points drove Cleveland to four straight wins after the East's dominant team led 2-0.
6. Boston 4-2 over Cleveland, 2010 second round: A 27-27 regular-season finish left the Celtics looking dead until Rajon Rondo controlled this series in LeBron's farewell to Cleveland.
7. Dallas 4-3 over San Antonio, 2006 second round: The Spurs may have claimed a fifth championship if not for an excruciating Game 7 OT loss on their home floor.
8. San Antonio 4-2 over Dallas, 2010 first round: The Spurs' team defense dismantled the favored Mavs step by step.