For parents who think flicking off the tube – or possibly transplanting their kids to a remote island like Fiji – will rescue their teens from the lure of sex, drugs and bulimia pervasive on reality shows, you'll have to try harder.
Sure, you can steal the remote and ban Snooki and "America's Next Top Model," but you better be friends with your kids on Facebook (or steal their laptops) if you want to keep them from bingeing and purging.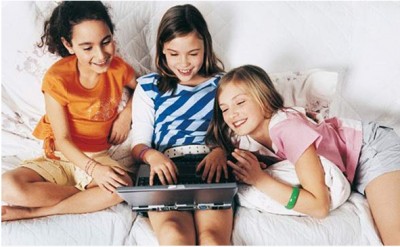 Turns out social media is delivering the model thin image right to the computer screens of teens internationally, inspiring damaged body images and symptoms of eating disorders on a global scale.
A new study reports the strong influence of television has seeped into social media networks, and suggests this phenomenon of secondhand TV exposure has crossed the continents with its influence.
Researchers from Harvard Medical School's Department of Global Health and Social Medicine studied the link between TV and social networks and its role in provoking eating disorders among teenage girls in an area as remote as Fiji. The thinking: If the power of the Internet can inspire there, it can inspire anywhere.
The findings support a separate study among American teens released in June 2010 that found that the popularity of social networking has fueled a significant amount of girls turning to websites devoted to eating disorders for dieting inspiration.
A growing number of sites called Pro-ana (for pro-anorexia) and Pro-Mia (pro-bulimia) are motivating American teens to pursue their eating disorders, according to researchers at the Johns Hopkins Bloomberg School of Public Health and Stanford University School of Medicine, reports Time magazine.
These sites offer "thinspiration" – photos of emaciated fashion models and celebrities, for example – along with tips and techniques for staying dangerously thin, according to Time. Most of the sites also allow user interaction through forums and message boards or through diet- and exercise-related tools, including body mass index calculators and activity diaries.
That study, published in the June 2010 edition of the American Journal of Public Health, is the largest and most rigorous examination of pro-eating disorders sites on the Internet to date.
What's most harmful, the study says, is the community aspect of the Internet because of its "seductive" elements, Time reports, adding that the constant social support can be "powerful encouragement for extreme behaviors, especially in young people whose eating disorders cause them shame and isolation."
It is exactly that community influence, researchers found, that drives the risk of developing eating disorders among Fijian schoolgirls when friends and classmates shared their social networks, independently of whether the girls watched TV at home or not, according to a Harvard Medical School release.
In fact, the girls that didn't watch TV, but heard about the shows from their friends on Facebook or other social networks, were 60 percent more likely to have eating disorders, according to the release.
That's significant because an earlier study done in 1995 when TVs first became popular in Fiji showed that girls were eager to be thin and emulate American TV actresses, and vomiting and starving their way to thinness, the Fiji Times reports.
"They frequently articulated a desire to lose weight or reshape their body in order to become more like a Western television character," the Times says.
But now, TV or no TV, damaging messages infiltrate the Internet, finding their way to Fiji teens, researchers report.
"Our findings suggest that social network exposure is not just a minor influence on eating pathology here, but rather, IS the exposure of concern," she says Ann Becker, lead Harvard researcher in the release. "If you are a parent and you are concerned about limiting cultural exposure, it simply isn't going to be enough to switch off the TV. If you are going to think about interventions, it would have to be at a community or peer-based level."
Becker says in the release she hopes the findings will encourage debate about responsible programming and the regulation of media content to prevent children from secondhand TV exposure.
Fiji is particularly interesting to researchers because the traditional culture there prizes a more robust body shape, Becker says in the release.
The bottom line: Teens may not be paying attention to TV, but they are soaking up what their friends say online about TV, says Nicholas Christakis, professor of medical sociology in the department of health care policy at Harvard, in the release.