BY ZEN S. LALUNA
LAS VEGAS – The Filipino American Heritage Foundation of Nevada (FAHF-NV) celebrated and crowned its first ever Ms. fil-Am Heritage of Nevada in glittering ceremonies graced by no less than U.S. Senate Majority Leader Harry Reid (D-NV) and other state and local dignitaries, at the Grand Ballroom of the Treasure Island Hotel Resort & Casino in Las Vegas last Saturday, October 23, 2010.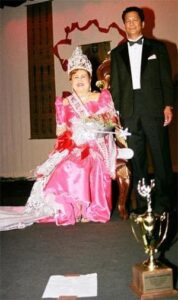 Finaflor Bueno Nafarrete-Lopez, Ms. Fil-Am Heritage-Nevada 2010, escorted by her husband Hansel Lopez, was crowned by former First Lady Dawn Gibbons. U.S. Senator Harry Reid was to pair with Ms. Gibbons in crowning Ms. Nafarrete-Lopez but he had to leave early due to pressing engagements.
In a well-attended evening, the FAHF-NV has achieved a rare feat with its record attendance in a city plagued by record unemployment and highest housing foreclosures. Senator Reid, keynote speaker of the night, was introduced by Judge Cheryl Moss (Clark County- 8th Judicial District). In a brief remark, Senator Reid praised the Filipinos for their contributions in the professional and economic prosperity of America, even as he also honored the heroism and war resistance efforts of World War II Filipino veterans who fought alongside American soldiers  against the Imperial forces of Japan in the 1940s. The Senator took time to address the veterans present at the occasion and extended his personal gratitude on behalf of America, to them.
Senator Reid co-sponsored and was instrumental in the passage of Filipino Veterans Equity Act in 2009 which authorized tax-free lump sum payments to Filipino WWII veterans after more than 60 years.
The FAHF gifted Senator Reid with a finely crafted Philippine-made barong tagalog,
for co-sponsoring the passage of the Congressional Proclamation declaring the month of October as Fil-Am Heritage Month throughout the United States, and for gracing the occasion despite his hectic campaign schedules. Senator Reid is running for a fifth term in Congress having served Nevadans illustriously in the last 24 years.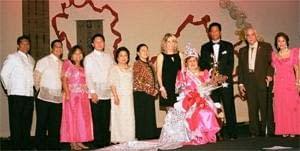 A Plaque of Recognition from the Filipino-American Veterans of Nevada (FAV-NV) was presented to Senator Reid by the Filipino veterans residing in Nevada in appreciation of his indefatigable work for the Fil-Am veterans in the Senate.
Finaflor Bueno Nafarrete-Lopez, the first Ms. Fil-Am Heritage of Nevada, was selected not only for her talent, elegance and beauty, but more so for her personal commitment to helping Filipino community while residing in San Diego, California, and for her excellent professional achievements both in her career and in trade associations in California, according to the Selection Committee.
Fina donned a pink Philippine terno tailored specially for the occasion by Frederick's of San Francisco, embroidered  with heavy silver pearls and beads. She wore a matching silver pair of shoes with pen toes. To complement her attire, Fina wore a heavily laden diamond necklace paired with  matching diamond earrings. Her escort, husband Hansel Lopez wore an elegant  Christian Dior tuxedo. Fina thanked the FAHF for her selection as the first FAHF queen and promised to help in realizing the mission of FAHF in the next years.
Fina came to America armed with a Bachelor of Science in Medical Technology from the Philippine Women's University, after graduating with honors from exclusive St. Mary's College in high school.
Landing a job in several prestigious hospitals in California, Fina rose from the ranks until she reached the pinnacle of her professional career as Clinical Laboratory Manager, a competitive, challenging and demanding job where she supervised all hospital departments in pathology. Later, Fina would set up medical laboratories with significant emphasis on compliance with the stringent rules, regulations and policies of the California Department of Health Services, even as she provided consultation services to medical laboratories.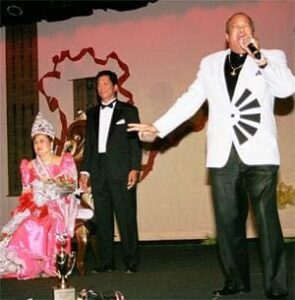 For her feat, she received the coveted Most Outstanding Medical Technologist Award in 1995 from the prestigious Eagle Award of Excellence in California.
On the distaff side, Fina was active in professional and community associations. She founded the Philippine American Society of Medical Technologists in Southern California, and headed many other professional, civic and charitable organizations for years.
Currently, Fina is president until 2014 of Maddela International Association which counts members from all over the world. For all her professional and community work, came numerous Recognition Awards from both Houses of Congress in California honoring her professional achievements, personal commitment and dedication to community work on behalf of Filipino-Americans in San Diego, California from 1987 until 1998.
In 2001, Fina made a significant and fruitful decision in her life.   From the routines and confines of medical laboratories and hospitals in 31 years, Fina jumped into the intriguing world of real estate and business ventures. Having saved enough, and armed with courage and learned business savvy, Fina put up several companies namely Fidelity Omega Properties & Development, Ritzland Properties & Development, Briggmohr Investments, and SGW Properties – all dealing with land banking. Setting up these companies greatly changed fina's world. Her new-found ventures afforded her to travel around the world, meet and develop close business relationships with heads of states, ambassadors and dignitaries – thus, completely opening up a new and exciting world for her.
Her mantra in life has served Fina well: "Do your best, and GOD will do the rest." She has achieved her life's dream.
Fina is married to Hansel B. Lopez, an engineer and Licensed General Contractor.