BY DAVID CASUCO
Fast-rising singer, Zyrene Parsad, of the Viva Talent Management will try to do what other illustrious performers like Martin Nievera, Lani Misalucha, and Arnel Pineda "failed" to accomplish – sing "Lupang Hinirang," the Philippine National Anthem, "properly" or in accordance to the standards set by the Philippines National Historical Institute (PNHI).
"I'm going to sing it in 55 seconds. I'm going to sing it right, not on my own interpretation, but according the standards set by PNHI,"   Zyrene told this writer during a visit to the Balita Media offices over the weekend.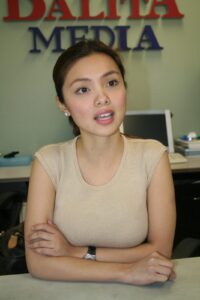 What preparations did she do?
Zyrene went to the PNHI and was given a compact disc of the national anthem by Teddy Atienza. In it is the guide to the proper rendition of the national anthem. She also met Sen. Chiz Escudero, because he was the one who passed the bill on how to sing the National Anthem properly. Then he sought Ryan Cayabyab, who partnered with Charice recently to showcase the PNHI model in singing the Philippine national anthem during the inauguration of President Benigno Aquino III.
"It is a little bit daunting, I must admit; but at the same time, I see it as a big opportunity to showcase to the whole world that I can sing," said the former "NBN Morning Show" host. "That is why I am very grateful to Congressman Pacquiao and Ma'am Jinky for giving me this chance."
The chance for the Texas gig came during a business mixer in Saranggani where Zyrene was the invited performer. During the event, she was introduced to Jinky and Cong. Pacquiao, and to Zyrene's surprise, the Pacquiaos called her up, a few days later, with the good news that she's got the Texas gig.
One does not have to second guess that the Assumption-educated Zyrene has got what it takes to become one of the next important stars in the Philippine movie scene. She has the talent, the looks, and the spunk to make it big in showbiz. Zyrene, though, had to toe the line where showbiz talent recognition is concerned.
"They say I have to join some talent search first before I could be considered as a star in the entertainment industry. So, I joined GMA's 'Are You the Next Big Star' hosted by Ms. Regine Velasquez."
Zyrene did not win. She ended up third place, good enough to be noticed by Viva Talent Management of Vic Del Rosario and Veronique Corpuz. Zyrene's first album is now in the market, and the last time she checked with Viva, she was told the album is "doing good."