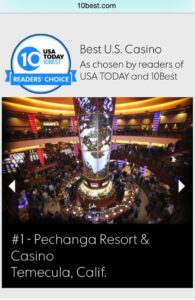 Not in Las Vegas or Other Established Gaming/Resort City – Pechanga Resort & Casino in Temecula, California is the favorite United States casino, according to a nationwide poll by 10Best.com, part of USA TODAY Travel, that ended Monday, June 22. The Native American owned and operated resort/casino claims the top spot after four weeks of voting by readers. It edged out well-known resort/casinos including the Bellagio, Borgata and L'Auberge in established gaming destinations such as Las Vegas, Atlantic City and the South. Pechanga, the largest resort/casino in the state, initially made the 10Best.com list, along with two other California resort/casinos.
"We are ecstatic about being voted number one," said Lee Torres, Pechanga vice president of marketing. "We say a huge 'thank you' to everyone who cast their ballot for Pechanga. We all try every day to offer a distinguished standard of customer service. Being the nation's favorite casino is an incredible honor, and it's a testament to the perseverance of the Pechanga Tribe."
Pechanga Resort & Casino is owned and operated by the Pechanga Band of Luiseño Indians. The Pechanga Band and the Temecula region celebrate the opening its original casino operation 20 years ago this July. In 1995, the Tribe opened the Pechanga Entertainment Center, housed in modular structures, with 200 gaming positions and 135 employees. They opened the permanent Pechanga Resort & Casino on June 24, 2002 with an 88,000-square foot casino floor, 517 hotel rooms, and a 1,200-seat theater. The tribe reinvested into the property, expanding its gaming space in 2005 to include another 100,000-square feet, and later added an on-site championship golf course. The resort now employs more than 4,000 people. Pechanga tribal members say the resort will become even more of a desired destination spot for travelers after their planned $285 million resort expansion, announced in late 2014, is completed.
Wednesday, July 22, Pechanga Resort & Casino will give away $100,000 during a slot tournament open to everyone 21 and older. The event will be a celebration to say, "thank you," to all who voted for the resort/casino in USA TODAY's poll.
Casino properties were chosen for the poll by Lisa Robertson-Dziedzic, Editorial Director for Casino Player and Strictly Slots magazines, and by Tony Harrell, a certified destination expert for Las Vegas, New Orleans and Canada.
About Pechanga Resort & Casino
Pechanga Resort & Casino offers one of the largest and most luxurious resort/casino experiences anywhere in the United States. Rated a Four Diamond property by AAA since 2002, Pechanga Resort & Casino provides an unparalleled getaway, whether for the day or for an extended luxury stay. Offering more than 3,000 of the hottest slots, table games, world-class entertainment, 517 hotel rooms, 11 restaurants, spa, on-site golf course, concerts and nightclubs, Pechanga Resort & Casino is a privately operated business of the Pechanga Band of Luiseño Indians. For more information, call toll free (877) 711-2946 or visit www.Pechanga.com. Follow Pechanga Resort & Casino on Facebook and on Twitter @PechangaCasino. Pechanga is open 24 hours and guests must be 21 or older to enter the casino.