MINNEAPOLIS (AP) – Bundled up on the sideline in a heavy, gray coat, Brett Favre could only watch as Devin Hester and the Chicago Bears sped through the snow to the NFC North title.
Favre's surprise start ended with a concussion, perhaps putting him out for good, and the Bears spoiled Minnesota's first outdoor home game in 29 years.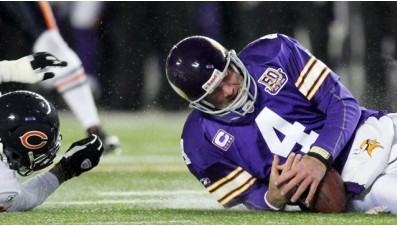 Hester set the NFL record with his 14th kick return touchdown, running back a punt 64 yards for a score shortly after halftime to help the Bears fly past the Vikings 40-14 on a frosty, hard-hitting Monday night.
"You play long enough, you're going to get your bell rung," Favre said.
Jay Cutler threw for three scores for the Bears (10-4), who last won this division during their 2006 Super Bowl season. Hester caught one of Cutler's touchdown passes and also took back the second-half kickoff 79 yards to set up a field goal a few minutes before his game-breaking punt return made it 27-7.
That was Hester's 14th career return touchdown, kickoff or punt, breaking Brian Mitchell's previous mark.
"Don't dwell on this," Hester said. "It's the record-breaker, but there's going to be a lot more. I guarantee you that."
Favre doesn't have many, if any, left. He finished 5 for 7 for 63 yards before the big hit by Corey Wootton, and the Vikings (5-9) fell apart in front of their proud alumni in town for the franchise's 50th anniversary celebration featuring all kinds of blasts from the past.
With the Metrodome unusable because of a roof collapse, the game got moved to the University of Minnesota. TCF Bank Stadium was about 80 percent full, with snowballs flying from the seats – sometimes hitting players – and plenty of frolicking in the flakes.
Favre wasn't even supposed to play, but his sprained throwing shoulder suddenly felt better this weekend. His NFL-record starts streak over, he still wanted to play once more in front of the Vikings fans that embraced him so warmly after booing him for so long as a member of the Packers.
He passed his pregame throwing test and trotted out in front of the Minnesota fans one last time, finding Percy Harvin for a 23-yard TD to give the Vikings a 7-0 lead after the opening drive.
"There were a few friendly wagers in the quarterback room on whether Brett would be out there," said Cutler, who had a cut on his chin after a hit from Antoine Winfield and played with a big bandage. "I wasn't surprised at all."
Favre managed one more joyful jump on a teammate's back to celebrate a touchdown, piggybacking right guard Ryan Cook before embracing Harvin and raising his left arm in triumph as he jogged off.
"It was a great opening drive," Favre said. "I probably should've went straight up the tunnel after that. But again – you've got to try sometimes."
Henry Melton tipped Favre's pass on the next Minnesota possession, Julius Peppers intercepted it at the 14 and Robbie Gould kicked a field goal. The next drive was a three-and-out, and Favre had to hustle back and smother the ball after a high snap slipped through his hands. Cutler zipped a 67-yard pass up the sideline over safety Madieu Williams to a streaking Johnny Knox , and the Bears built a 10-7 lead they never lost.
In the second quarter, the Vikings lost Favre – possibly for good.
On third-and-4 from the Bears 48, Wootton got in the backfield and grabbed Favre by his non-throwing shoulder, slamming him to the cold turf players had worried about in the days before the game. The career leader in almost every major statistical category for quarterbacks, Favre lay motionless for a few seconds before climbing to his feet and walking off with his head hung down.
With a black cap pulled past his eyebrows, Favre grimaced as he put on an oversized coat and got ready to watch the rest of the game. Rookie Joe Webb took over, scoring on a 13-yard scramble to the edge of the end zone to cut the lead to 27-14, but the Bears had their way after putting perhaps the final seal on Favre's storied 20-year career.
Favre repeatedly has said this will be his final season. He spoke wistfully of his career after the game, but refused to rule himself out of either of the last two games just yet.
"He can walk away with his legacy intact," Vikings interim coach Leslie Frazier said.
If Favre was diagnosed with a concussion, he'd need to meet NFL guidelines requiring him to be symptom-free and cleared by both a team doctor and independent neurological consultant before he can play again.
The Bears were playing their second straight snow-globe-style game, actually, eager to erase the taste of last week's blowout loss at Soldier Field to the New England Patriots .
They certainly got that done.
"By no means are we completely satisfied," Cutler said. "We know we can be so much better offensively."
Afterthoughts in a division featuring Favre and the reigning champion Vikings plus a dangerous Green Bay team, the Bears didn't buy into the doubts. They've caught several opponents at the right time, including the banged-up Vikings. With Cutler playing better, Hester back in his super-rookie form and the defense relatively healthy again, however, the Bears are feeling just fine.
"It's hard to stop that type of team, when everybody is scoring," Hester said.
Former Vikings coach Bud Grant jogged around the field at halftime in a short-sleeve purple shirt, getting carried off by some of his former players after an inspired ceremony.
With general-admission seating, customers braved the cold in parkas, snowmobile suits and ski caps, celebrating touchdowns with snowball throws and cheering their favorite players from the past as they were introduced at halftime.
Dozens of workers the massaged the field before the game to make it as playable as possible, with machines pushing snow across the yard lines and into the corners of the brick-lined walls. Crews gently rolled off the tarp before warmups while the flakes kept flying.
Players from both teams expressed concerns this week about the safety of the turf. Vikings punter Chris Kluwe posted on Twitter after Sunday's walkthrough his comparison of the surface to "concrete." He predicted a "trainwreck" and later said he was asked to stop tweeting by the team.